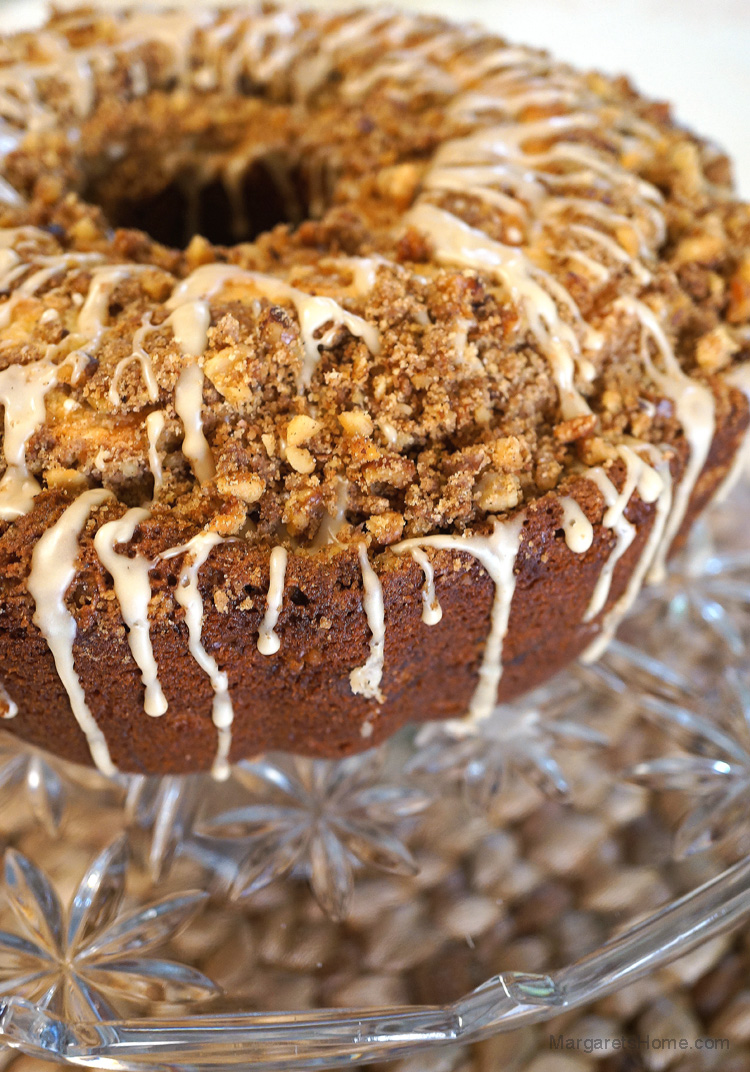 If you're looking for the perfect coffee cake for brunch – this is it! Ina Garten's Sour Cream Coffee Cake. It has a light, moist texture with a slight tang from the sour cream. The cinnamon, brown sugar and nut streusel runs through the middle of the cake and also tops it. And, as if that's not enough, it has a delicious maple glaze that's easy to make and absolutely yummy.
Be sure to use cake flour because it adds to the light texture of this cake. It also makes a big difference when you have the butter and eggs at room temperature before you get started. I've read that there was a typo in her online recipe where it called for 1/4 cup light brown sugar to make the streusel and it should have been 3/4 cup. I kept it at 1/4 cup and it was perfect so I wouldn't change it. I hope you will enjoy this cake as much as we did.
The Barefoot Contessa's Sour Cream Coffee Cake
Author: Ina Garten
Total Time:  1 hr 40 min
Prep time:  10 min
Inactive:  30 min
Cook time:  1 hr
Serves:  8-10
Ingredients:
12 tablespoons (1 1/2 sticks) unsalted butter at room temperature
1 1/2 cups granulated sugar
3 extra-large eggs at room temperature
1 1/2 teaspoons pure vanilla extract
1 1/4 cups sour cream
2 1/2 cups cake flour (not self-rising)
2 teaspoons baking powder
1/2 teaspoon baking soda
1/2 teaspoon kosher salt
For the streusel:
1/4 cup light brown sugar, packed
1/2 cup all-purpose flour
1 1/2 teaspoons ground cinnamon
1/4 teaspoon kosher salt
3 tablespoons cold unsalted butter, cut into pieces
3/4 cup chopped walnuts, optional
For the glaze:
1/2 cup confectioners' sugar
2 tablespoons real maple syrup
Directions
Preheat the oven to 350 degrees F. Grease and flour a 10-inch bundt or tube pan.
Cream the butter and sugar in the bowl of an electric mixer fitted with the paddle attachment for four to five minutes, until light. Add the eggs one at a time. Then add the vanilla and sour cream. In a separate bowl, sift together the flour, baking powder, baking soda, and salt. With the mixer on low, add the flour mixture to the batter until just combined. Finish stirring with a spatula to be sure the batter is completely mixed.
For the streusel, place the brown sugar, flour, cinnamon, salt, and butter in a bowl and pinch together with your fingers until it forms a crumble. Mix in the walnuts, if desired.
Spoon half the batter into the pan and spread it out with a knife. Sprinkle with 3/4 cup streusel. Spoon the rest of the batter in the pan, spread it out, and scatter the remaining streusel on top. Bake for 50 to 60 minutes, until a cake tester comes out clean.
Let cool on a wire rack for at least 30 minutes. Carefully transfer the cake, streusel side up, onto a serving plate. Whisk the confectioners' sugar and maple syrup together, adding a few drops of water if necessary, to make the glaze runny. Drizzle as much as you like over the cake with a fork or spoon.