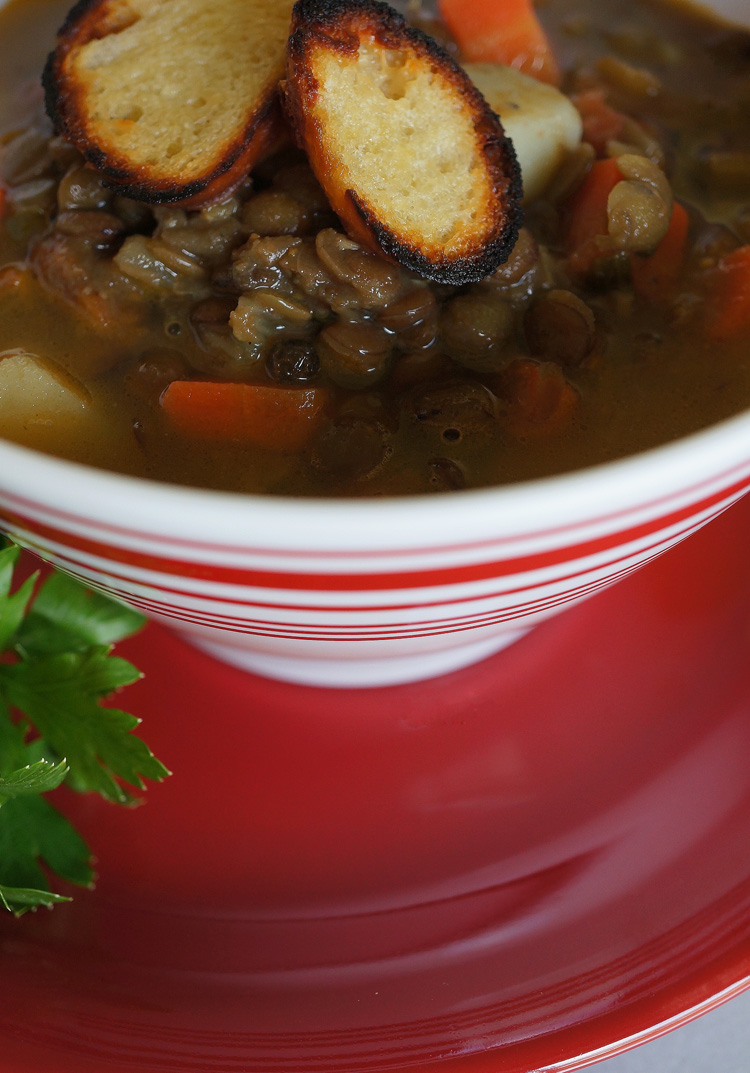 I pretend I'm on the TV show Chopped, when my fridge and pantry are down to their last few vegetables – one potato, one onion, one carrot, a few stalks of celery, tail end of the parsley, and lentils. That is how I came up with this recipe.
The rasam part of the recipe was included because both my daughter and I had sore throats. Rasam is a watery, spicy, tart Indian soup. The English called it mulligatawny soup. The name originates from the Tamil words milagu and thanni which translates to pepper-water.
Rasam powder can be bought at Indian grocery stores. Its spicy but you can adjust the amount you use to your own level of comfort. This soup is excellent when you have a cough or cold. It clears the sinuses, helps with digestion, and it is rich in vitamins. I hope you enjoy this soup as much as we did.
Hearty Lentil Soup with Rasam Powder
Prep time: 15 minutes
Cooking time: 1 hour
Serves: 6-8
Ingredients:
1 cup diced onion
3 tablespoons oil
6 medium garlic cloves
2 teaspoons whole black pepper, (optional)
2 teaspoons whole cumin seeds
1-2 tablespoons Aachi Rasam Powder, (depending on heat and your preference)
1 cup whole green lentils, (French green lentils)
1 cup whole brown lentils, (masoor dal)
3-4 cups water, (enough to cover the lentils by two inches)
1 cup carrot cubes
1 cup potato cubes
½ cup diced celery
14.5 can of diced tomatoes
32 oz (2 lbs) vegetable or chicken broth, (99% fat free, low sodium)
1½ teaspoons balsamic vinegar, (optional)
salt
2 tablespoons minced parsley, (optional)
Directions:
Fry the onion in a large pot over medium-high heat, stirring occasionally, until the onion becomes translucent.
While the onions are getting translucent, crush the garlic, black pepper, and cumin in a mortar and pestle. Crush them well so the pepper breaks into tiny pieces. Add the crushed ingredients to the onion and cook until fragrant, about three minutes. Add the rasam powder, stir and cook for 30 seconds. Add the lentils and enough hot water to cover the lentils by two inches. Bring to a boil, reduce the heat to medium-low, cover partially, and cook for 30 minutes.
Increase the heat to high and add carrot, potato, celery, tomato, vegetable broth, balsamic vinegar, and salt to taste. Reduce heat to low, cover partially, and simmer for 20 minutes or until the vegetables are soft and the lentils have darkened. Add parsley and cook for another five minutes with the lid off. Stir well and serve hot. Can be refrigerated in an airtight container for two days. Warm over low heat until hot.