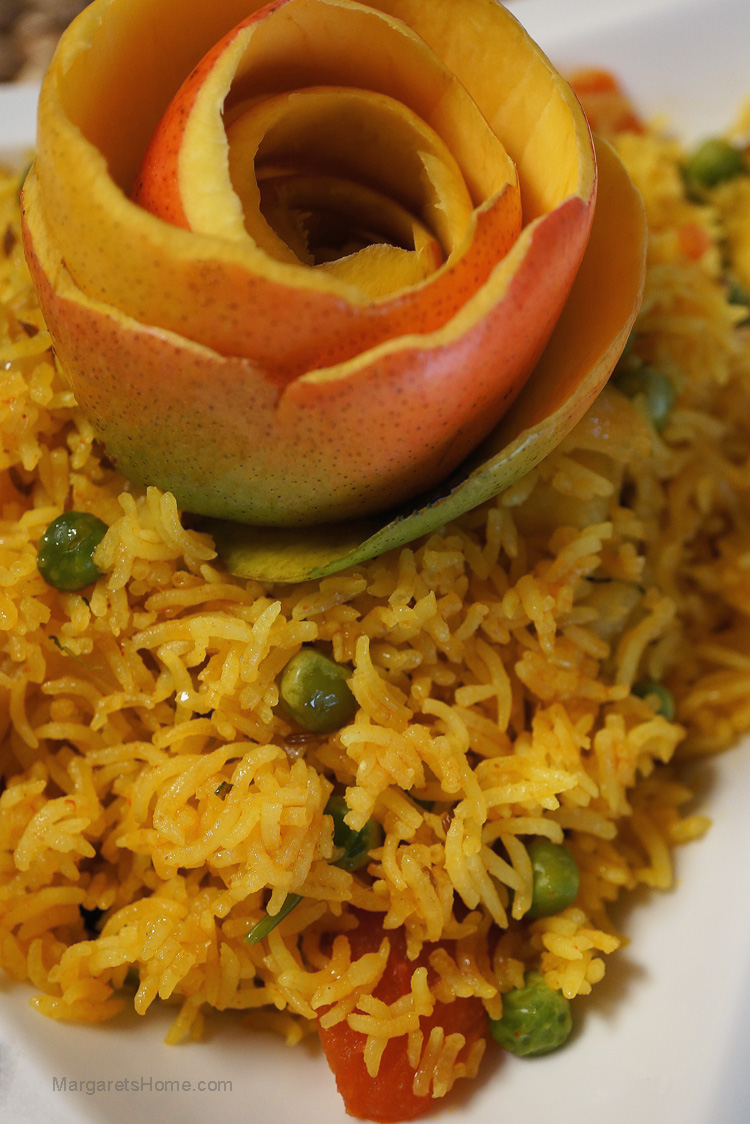 I love to play with food and you'll see that I've done just that by garnishing my Aloo Mattar Pilaf (Potato and Pea Pilaf) with a beautiful rose made out of mango peel. Cooking is fun and as they say, you eat with your eyes first. So, take a few minutes to garnish and make your food appealing.
Pilaf, also spelled pilav or pilau or pulao, is rice cooked with spices in a seasoned stock. In India, we add vegetables, fish, meat or dried fruits to our pilaf. Pilaf is a dish that is found in the cuisine of many different countries. Each pilaf is distinctly different from the other.
You'll find aloo mattar curry on the menu of most Indian restaurants and that's what gave me the idea of trying a similar recipe in a pilaf style. It turned out to be a hit with my family, so I thought I'd share the recipe with you. It pairs well with a simple cucumber and yoghurt salad. I ate this for lunch yesterday and I was very satisfied!
Here are a few points for you to remember before you start cooking. Parboil or cook the potatoes partially, peel and cut each into four wedges. Make sure you don't overcook the potatoes. I used peas from a local Indian grocery store, as they are less sweet. Cook the peas in boiling water, drain and shock them in ice so they stay green.
Thanks to those of you who try my recipes and post your pictures on my Facebook page. I  love seeing your results so keep them coming!
Aloo Mattar Pilaf (Potato and Pea Pilaf)
Prep time: 10 minutes
Cooking time: 20 minutes
Serves: 4-5
Ingredients:
2 cups Basmati rice
3 tablespoons ghee, (or coconut oil)
1 cup finely chopped onion
1 bay leaf, (torn in two)
8 cloves
2 star anise
6 green cardamoms, (lightly bruised)
1½-inch piece of cinnamon, (broken in two)
10 whole black pepper corns, (optional)
1 tsp cumin seeds
2 medium potatoes, (parboiled, peeled, and cut into quarters)
3 green chillies, (slit down the middle, optional)
2 Roma tomatoes, (blanched, peeled, and cut into quarters)
1½ teaspoons turmeric powder
1 teaspoon Kashmiri chilli powder, (optional)
salt
3¾ cups water
1 cup green peas, (cooked, drained and shocked in ice)
¼ cup finely chopped cilantro
Directions:
Wash and drain the rice.
Place a large non-stick pot on medium-high heat. Add ghee and when it shimmers add onion. Cook for two minutes or until the onion turns translucent. Do not let the onion turn brown. Turn the heat to low, and add the spices – bay leaf, cloves, star anise, cardamoms, cinnamon, pepper, and cumin seeds. Stir for a minute and then add the potatoes. Turn the heat back to medium-high. Fry the potatoes for two minutes. Next, add the green chillies, tomato, turmeric, chili powder, and salt. Cook for one minute. Add rice and stir gently, until the water from the rice evaporates. Add water and when it comes to a boil, cover the pot with a tight fitting lid, and turn the heat to low. Cook for 10 minutes. Add the peas and cilantro on top of the cooked rice. Turn off the heat and let the rice remain covered and undisturbed for five minutes. Fluff the rice with a fork and serve.