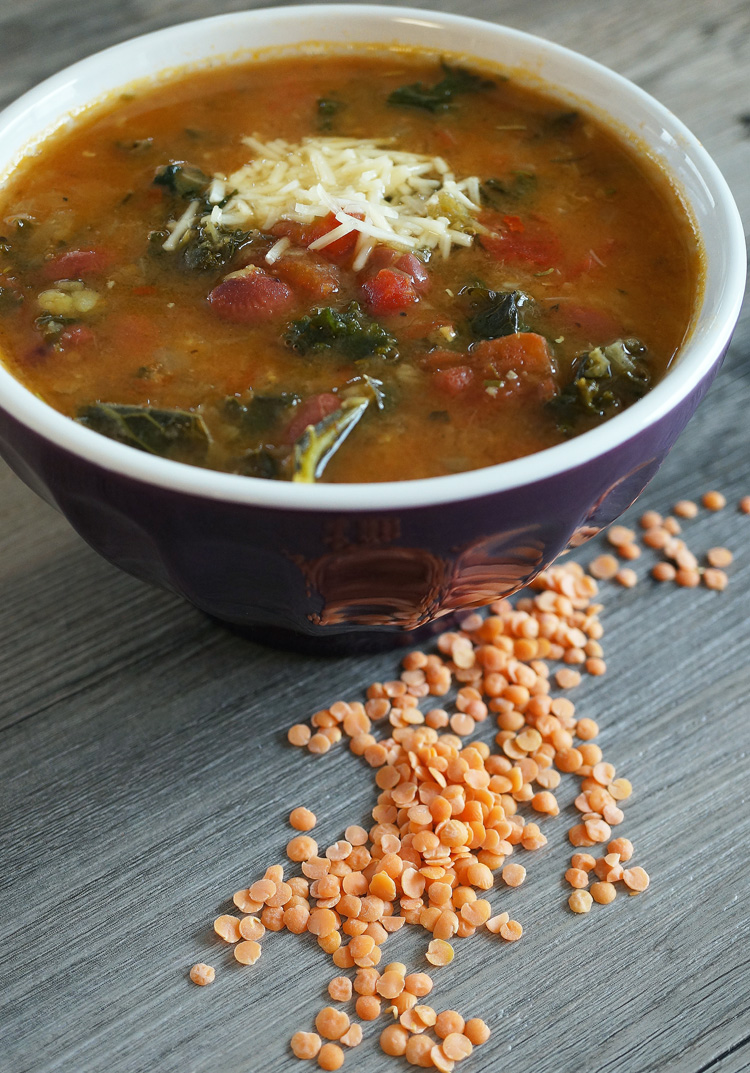 My inspiration for today's recipe was a spice rack that I got for Christmas. Thank you, Sonia, for this beautiful gift. The 20-jar revolving spice rack has dry herbs and spices that are of the highest quality. I used rosemary and thyme in my soup today. If you don't own a spice rack, I recommend that you get one. Having spices and herbs at your fingertips is a time saver in the kitchen.
My love for kale is no secret and I'm using it in the soup of the day. Kale has been a very popular vegetable recently. Doctors have named it one of the world's healthiest foods. Kale has antioxidant-related health benefits, anti-inflammatory health benefits, and cancer-preventive benefits. It also provides cardiovascular support, controls blood glucose levels, improves bone health, and helps lower blood pressure and cholesterol.
I also used red lentils (masoor dal) in the soup. You can find red lentils at your regular grocery store or at the Indian grocery store. I used the split red lentils instead of the whole red lentils, because they cook faster. Take the time and effort to wash the kale well. If the stems on the kale are tough, remove them and use only the leaves. You can use some of the tender stems, but cut them into small pieces.
My family enjoyed this soup a lot and I hope you will too.
Kale and Lentil Soup
Prep time: 10 minutes
Cooking time: 35 minutes
Serves: 4
Ingredients:
3 tablespoons olive oil
1 cup chopped onion
2 teaspoons sliced garlic
¼ teaspoon turmeric
½ cup split red lentils, (masoor dal)
2 cups water
1 can (14.5 oz 411 g) diced Tomatoes
1 can (15.5 oz 439 g) Goya small red beans
½ teaspoon dried rosemary
½ teaspoon dried thyme
½ teaspoon crushed red pepper flakes, (optional)
½ teaspoon fresh ground black pepper
salt
7 cups low-sodium stock, (vegetable or chicken)
4 cups kale
3 tablespoons grated Parmigiano-Reggiano (optional)
Directions:
De-stem the kale by pulling the leaves away from the stem. Wash the leaves and tear (or cut) them into small bite size pieces. If you use the tender stem, cut them into small pieces. Set aside.
Heat olive oil in a large saucepan set over medium heat. Add onion and garlic. Stir and when they turn translucent, add turmeric and lentils. Stir and cook for a minute. Add two cups of water. Bring the water to a boil, then turn the heat to low. Partially cover the saucepan with a lid and let it cook for 20 minutes. The lentils should be well cooked before you add the rest of the ingredients.
Add the tomatoes, red beans, rosemary, thyme, red pepper flakes, pepper, salt, and vegetable stock. Turn the heat to high and bring to a boil. Add the kale, turn the heat to medium-low, and let the soup simmer for ten minutes. Serve in soup bowls and garnish with grated Parmigiano-Reggiano.