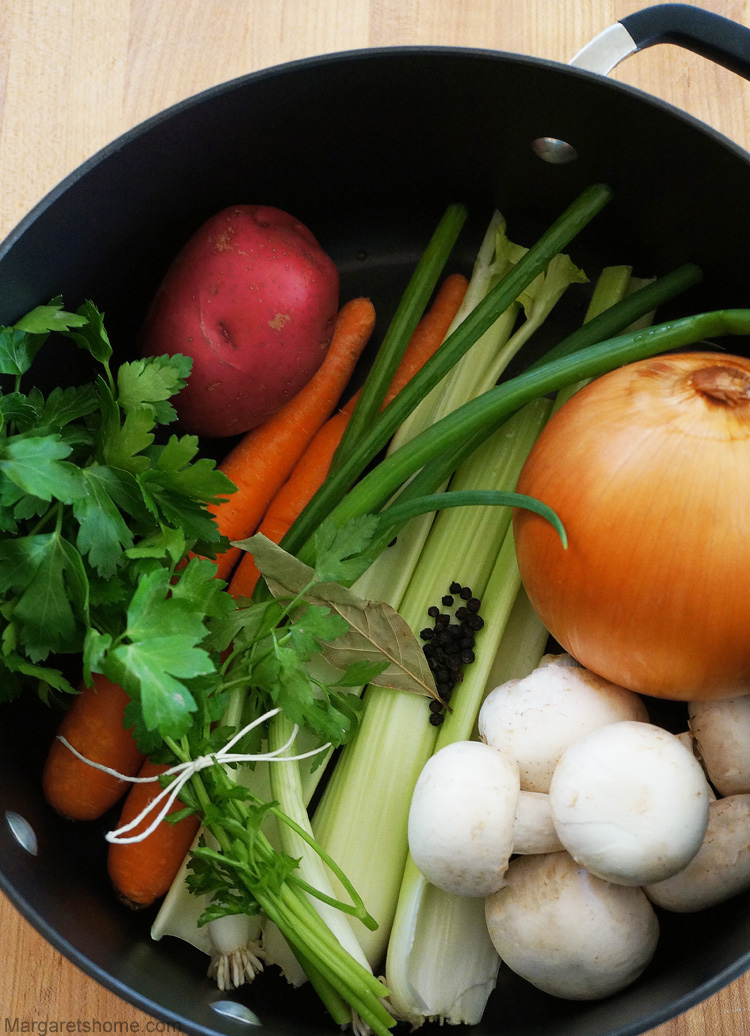 I learned the basics of cooking American food from my mother-in-law. She made everything from scratch because, back then, Indian grocery stores did not carry the kind of vegetables, herbs, pastas, sauces, and ingredients like they do today. She made her own whole wheat bread, peanut butter, mayonnaise, a variety of jams, soups, stews, and even complicated stuff like meatless salami. Her desserts were to die for – lemon pies with mile-high meringue, cakes, puddings, cookies, and brownies. The table was set for every meal. The laughter and stories that we shared around the table are memories that I will always cherish. My mother-in-law is beautiful, wise, strong, and more fun than a mother-in-law should be! Thank you, mom, for being such an incredible teacher.
I wanted to share a winter soup recipe with you today, but realized that one of the ingredients that I asked for was vegetable stock. So, first, let me share with you a simple vegetable stock recipe that I make very often. I think it is much better to make your own stock, because that way you control the amount of salt that you put into it. You could also buy low-sodium vegetable, chicken, fish or beef stock from the grocery store. But once you learn how to make it yourself, and you use it in making your soup – there is no going back to store-bought stock. It is by far one of the easiest things you can make, so let's begin.
Vegetable Stock
Prep Time: 10 minutes
Cook Time: 45 minutes
Makes: 4 cups of stock
2 tablespoons vegetable oil
1 large onion
1 large red potato
3 carrots
3 celery stalks
6 mushrooms
3 garlic cloves
6 sprigs of parsley
1 teaspoon whole black peppercorns
1 bay leaf
2 tablespoons soy sauce
8 cups water
salt to taste
Wash all the vegetables and give them a rough chop. You don't even need to peel the onion or the garlic.
You need a large pot that will hold all the vegetables and the water. Heat the pot over medium-high heat. Add vegetable oil. When the oil shimmers add onion, potato, carrots, celery, mushrooms, and whole garlic cloves. Cook without stirring for about five minutes. Then stir infrequently, allowing the vegetables to get lightly brown. It will take about 10-15 minutes.
Add parsley, black peppercorns, bay leaf, soy sauce, and water. Bring to a boil, then lower the heat and allow the soup to simmer steadily. Cook for 45 minutes or until the vegetables are tender.
Strain, taste and add more salt if needed before storing. Use this stock for soups, stews and other recipes that call for vegetable stock.