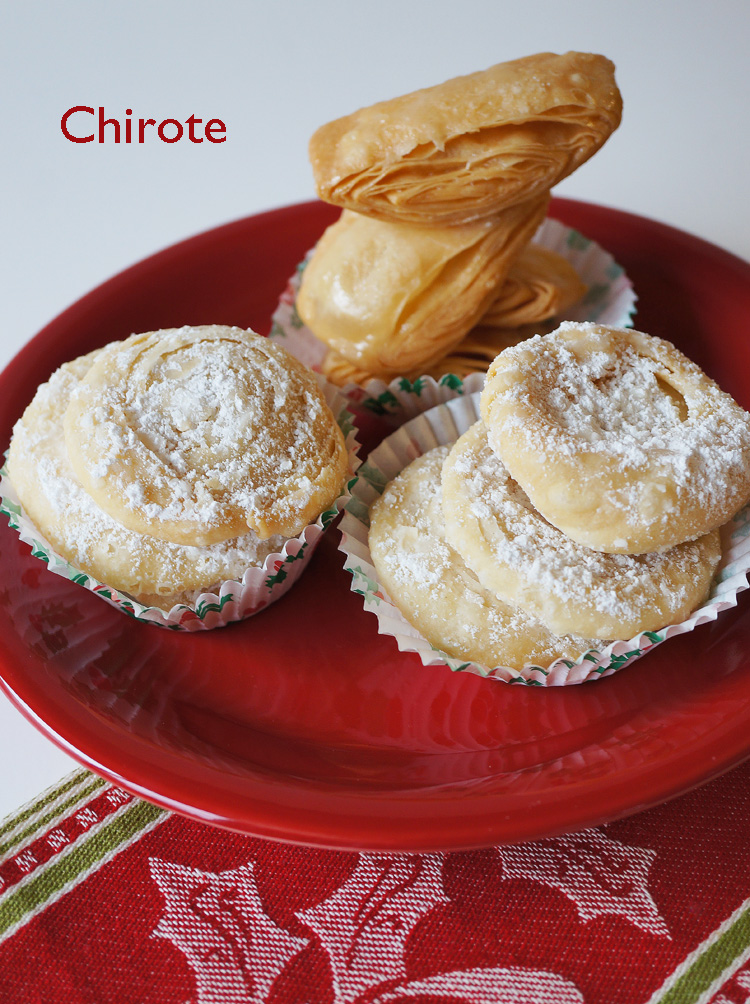 It's time to give thanks, celebrate, and reminisce. While I was growing up, making Indian sweets, cookies, cakes, and pastries during Christmas was a family affair. It was part of our celebration. Each one of us had a specific task to do in the kitchen. Making the different fillings, kneading the dough, rolling, cutting, frying or baking – whatever it was, the whole family participated. Being the youngest in the family, I got to do the fun parts, like putting raisins in karanjis. I would put two raisins in one karanji and one in my mouth. Needless to say, I was fired from that job!
Too many of these traditions are forgotten these days. My own children don't know how to make these delicacies. So, before these recipes are completely lost, I want to share them with you. Chirote (also spelled Chiroti) is a popular dessert from Maharashtra and Karnataka. It is a crisp, flaky, deep-fried pastry. The pastry is dipped in a sugar syrup or dusted with confectioners' sugar. Half a teaspoon of rose water added a touch of elegance to the sugar syrup that I made.
I know that this recipe is long and it looks scary! But one way to tackle it, is to gather some of your friends and you could make them together. I'd love to know what special treats you plan to make for your families this Christmas. Please share them with me, here on my blog or on the MargaretsHome Facebook page. Thank you.
Chirote
Prep time: 1 hour (does not include time to rest dough)
Cooking time: 30 min
Makes: 20
Ingredients:
For the dough
2 cups all-purpose flour, plus 1 cup flour for dusting
3 tablespoons ghee or unsalted butter, melted
1/8 teaspoon salt
water (I used about ¾ cups)
For the rose syrup
1 cup granulated sugar
1 cup water
3 teaspoons lemon juice
½ teaspoon rose water
For the spread
2 tablespoons ghee/butter, melted
2 tablespoons rice flour
For dusting
¼ cup confectioners' sugar
Use this to dust half the chirotes after you make them.
Directions:
For the dough
Add flour and salt into a large mixing bowl. Stir with a whisk. Make a well in the center and add melted ghee. Add a few tablespoons of water at a time and mix until the dough comes together. Knead to make a firm dough. Cover the dough with a damp towel and let it rest for one hour. You can also made the dough in a stand mixer. Use the dough hook.
For the rose syrup
In a heavy-bottomed saucepan add sugar and water. Place it over medium-high heat. Stir until the sugar dissolves. Simmer over low heat until the sugar syrup thickens (one-thread consistency), about six minutes. Turn off the heat. Stir in the lemon juice and rose essence.
For the spread
In a small bowl, mix melted ghee and rice flour until creamy. Set aside.
(If you live where it is cold during this time of the year, make this after you make the rotis. Otherwise, it will become solid and you have to put in the microwave to soften it. I know, because it happened to me!)
Put it all together
Divide the dough into six even sized portions. Roll each portion of dough between the palms of both hands, using a circular motion, to make smooth dough balls. Flatten each dough ball slightly and place it on a well floured surface. Dust some flour over it and using a rolling pin, roll it into a thin, round shape (like a roti), about 10 inches in diameter. Place each roti on a large plate or tray and cover them with a damp towel. You can place the rotis one on top of the other as long as you have dusted them with flour.
Place one roti on your work surface, smear with one teaspoon of the spread (rice flour and ghee), right to the edges. Dust with a little flour. Place the second roti over the first and again smear it with a teaspoon of the spread. Dust with flour and then place the third roti and smear it with the spread. Dust with a little flour. Starting at the lower edge, roll into a tight log. Stick the edge with a drop of water. Use a sharp knife and a sawing motion to cut the log into ½ inch pieces. Put the pieces on a plate and cover them with a damp towel. Using the same process, make another log with the remaining three dough balls.
There are two methods of making chirotes. For the first method, take one piece and keep the plain, smooth side up.  Roll lightly with a rolling pin to make a long, 2 inch chirote. For the second method, keep the cut edge up, press gently and roll lightly with a rolling pin, making a circle that is about 2½ inches in diameter. Keep them covered with a damp towel.
To show you, I used one log to make chirote which I dusted with confectioners' sugar and the other log to make chirote that I dipped in rose syrup.
In a heavy-bottomed pot, heat oil for deep frying, over medium-high heat. Once the oil gets hot, turn the heat to medium. Drop three or four chirotes into the oil and fry them on both sides until they turn golden. Drain on paper towels. Sprinkle half of the chirotes, while they are still warm, with confectioners' sugar. Drop the other half of the warm chirotes, a few at a time, into the rose syrup. Enjoy.