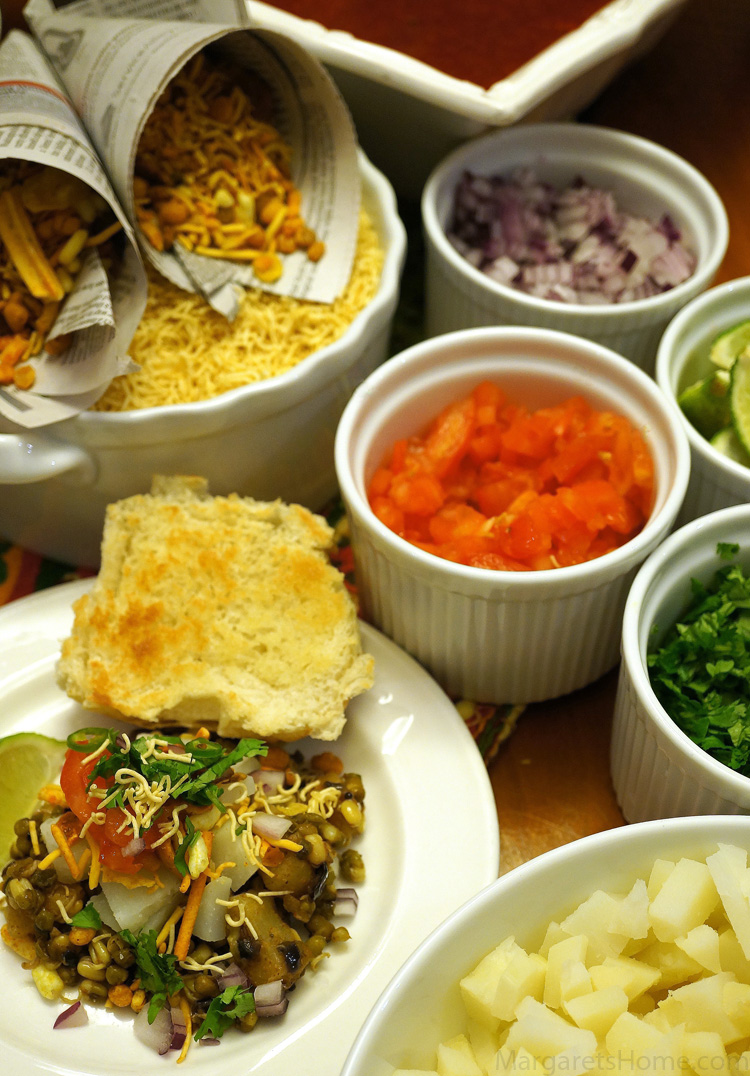 I grew up in Pune, a city close to Mumbai in the state of Maharashtra. Many of the dishes my mom prepared were influenced by our neighbors and friends. Needless to say, Maharashtrian cuisine is one of my indulgences.
Recently I was invited to a birthday lunch and misal was served as an appetizer. The sight, smell and taste of my days in Pune came flooding back. I shamelessly ate the appetizer as my main course, to the amusement of all the other guests. It made my day and I decided to do a blog post for others that might miss misal as much as I did.
I must confess that my misal recipe is unconventional. I know people from Maharashtra have their own authentic recipes, but I had to make do with whatever ingredients I had available. I used sprouted green gram (moong beans) because I did not have moth beans (matki). You can also make misal using a combination of legumes like sprouted green gram, moth beans, black eyed peas, and dried white peas. I made this misal recipe for a party of 15 people and everyone enjoyed it. The recipe looks long with the number of ingredients, but it's not that difficult to make.
Misal Pav
Prep time: 20 minutes
Cooking time: 30 minutes
Serves: 15
For the Usal:
10 cups sprouted green gram, (moong beans) or sprouted moth beans, (matki)
1 cup water
3 tablespoons oil
1 teaspoon mustard seeds
1 teaspoon cumin seeds
1 pinch asafoetida
½ teaspoon turmeric
1 sprig curry leaves
1 cup finely chopped onion
1 tablespoon finely chopped garlic
3 tablespoons Goda masala or Kanda-Lasoon masala
1 cup boiled and cubed potato, (optional)
Salt
1 tablespoon finely chopped cilantro
Cook the sprouted green gram in a pressure cooker with one cup of water. I cooked it without the weight for five minutes. Set aside.
Heat oil in a large sauce pan, over medium-high heat, until it shimmers. Add mustard and cumin seeds. When the mustard seeds splutter, add asafoetida, turmeric, and curry leaves. Fry for five seconds and then add the chopped onion and cook until the onions turn translucent. Add the garlic and sauté until the onion turns light brown. Garlic should not turn brown. Add Goda masala and sauté for a minute longer. Add the sprouts, potato, salt and any water left from pressure cooking the sprouts. Mix well and cook for five minutes or until the water evaporates. Garnish with chopped cilantro.
For the Kat/Rassa (gravy):
2 cup thinly sliced red onions
1 tablespoon garlic slices
2 tablespoons desiccated coconut
1 cup diced tomatoes
4 tablespoons oil
salt
2 packets Rasoi Magic Misal Rassa
8 cups water
1 teaspoon Kashmiri chilli powder
In a medium size non-stick frying pan, add one teaspoon of oil. Place over medium heat. When the oil is hot add sliced onion and roast until they turn light brown. Remove and then add garlic. Roast the garlic slices until they start turning light brown. Remove and add the desiccated coconut. Roast until light brown. Remove, cool, and with the help of very little water grind onion, garlic and coconut in a blender until smooth. Set aside.
Mix the two packets of Rasoi Magic Misal Rassa with two cups of water and set aside.
In a large pot heat three tablespoons of oil over medium heat. Add the ground onion, garlic and coconut paste. Fry until it turns light brown. Add the chopped tomatoes. Cook until the oil separates and then add salt, the Rasoi Magic Misal Rassa mixture, and eight cups of water. Bring to a boil and then turn heat to low and let it simmer for ten minutes.
To season the kat, take a small non-stick pan and add the rest of the oil. Place over low heat. When the oil gets warm turn off the stove and add one teaspoon of Kashmiri chilli powder. Pour this over the kat. It will float over the kat and give it a beautiful red color.
To put it all together and serve:
1 packet hot mix, (farsan, chivda)
1 packet fine sev
20 pavs, (or slices of bread or soft rolls)
2 cups boiled and cubed potatoes
½ cup finely chopped onion
½ cup finely chopped cilantro
¼ cup finely chopped green chillies, (optional)
1 cup lemon wedges
To serve – put 2 tablespoons of usal in a small bowl, add a few cubed potatoes, two tablespoons of the hot mix, stir the kat, and pour two-three tablespoon over it. Then sprinkle sev, onion, tomatoes, cilantro and green chillies. Serve a lemon wedge and pav on the side. You could also cut the pav in half, butter and toast them on a griddle before serving. Misal a complete light meal any time of the day, a great tea time snack, and a showstopper at a party!
Notes:
– The quantity given for this recipe serves 15-20 people.
– Assemble the misal just before serving.
– Goda masala is available at Indian grocery stores. If you cannot get this masala you can use Kanda-Lasoon masala.
– Kat can be made by following the directions on the misal rassa packet.
– To sprout green gram, I soaked it in water for six hours. Drained it in a colander and put it in the oven with the light on overnight. I had beautiful sprouts the next morning.
– The picture at the bottom of the page was taken by a friend at the party.