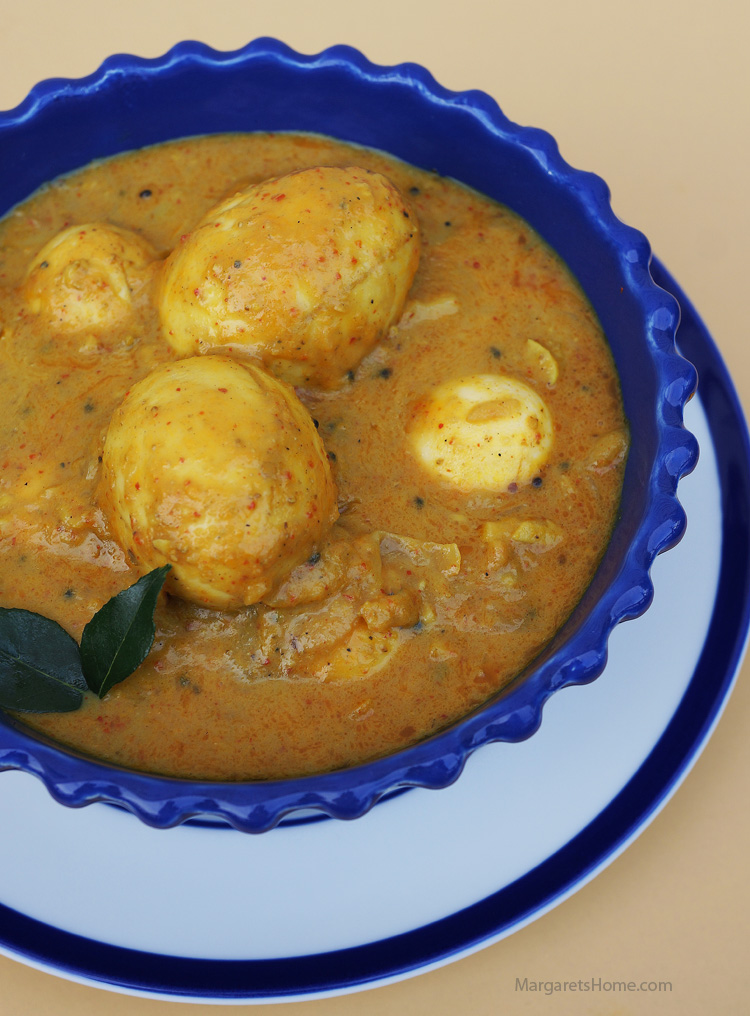 Egg curry or mutta curry, as we call this dish in Malayalam, is a faithful standby when unexpected guests arrive at lunch time or when the vegetable bin is empty in the refrigerator. Every Indian family has their own style of making egg curry. The egg curry recipe that I am sharing with you today, is from Kerala. Coconut milk, curry leaves, vinegar, and garam masala gives this dish its creamy, spicy, and aromatic fragrance and flavor. The versatile egg curry can be eaten with rice, chapatis, appams or string hoppers. It's a good dish to have in your recipe collection.
Enjoy!
Egg Curry – Kerala Mutta Curry
Prep time: 20 minutes
Cooking time: 25 minutes
Serves: 6

Ingredients:
6 hard boiled eggs
4 whole dry red chillies, (depending on heat and your preference)
3 teaspoons whole coriander seeds
¼ teaspoon whole black pepper
¼ teaspoon fennel seeds
1 one-inch piece cinnamon
2 green cardamom, seeds only
2 cloves
¼ teaspoon cumin seeds
3 tablespoons coconut oil
½ teaspoon mustard seeds
1 sprig curry leaves
1 cup finely diced shallots
2 green chillies, slit in half (optional)
1 teaspoon finely diced ginger
1 teaspoon finely diced garlic
1 teaspoon turmeric powder
1 (13.66 fl oz) can coconut milk, unsweetened
1 cup water
3 medium potatoes, quartered
2 teaspoons vinegar
Salt
1/8 teaspoon freshly ground black pepper
A few curry leaves to garnish
Directions:
In a small non-stick frying pan, over low heat, roast the dry chillies, coriander seeds, whole black pepper, fennel, cinnamon, cardamom, and cloves. When it starts smelling fragrant, add the cumin seeds and roast for 10 seconds. Remove from the heat and cool the spices completely. Powder in a coffer grinder and set aside.
Place a saucepan over medium-high heat. Add oil and when it shimmers, add the mustard seeds. When they splutter add the curry leaves, green chillies, onion, ginger, garlic, and turmeric. Cook until the onion turns translucent. Add the powdered spices and stir. Mix one cup of coconut milk with one cup of water and add it to the pan. Add the potatoes, vinegar, and salt. Cook for 15 minutes over medium-low heat. When the potatoes are done, add the boiled eggs and the remaining coconut milk. Let the curry simmer for five more minutes. Remove from the heat, add freshly ground black pepper, and garnish with curry leaves.