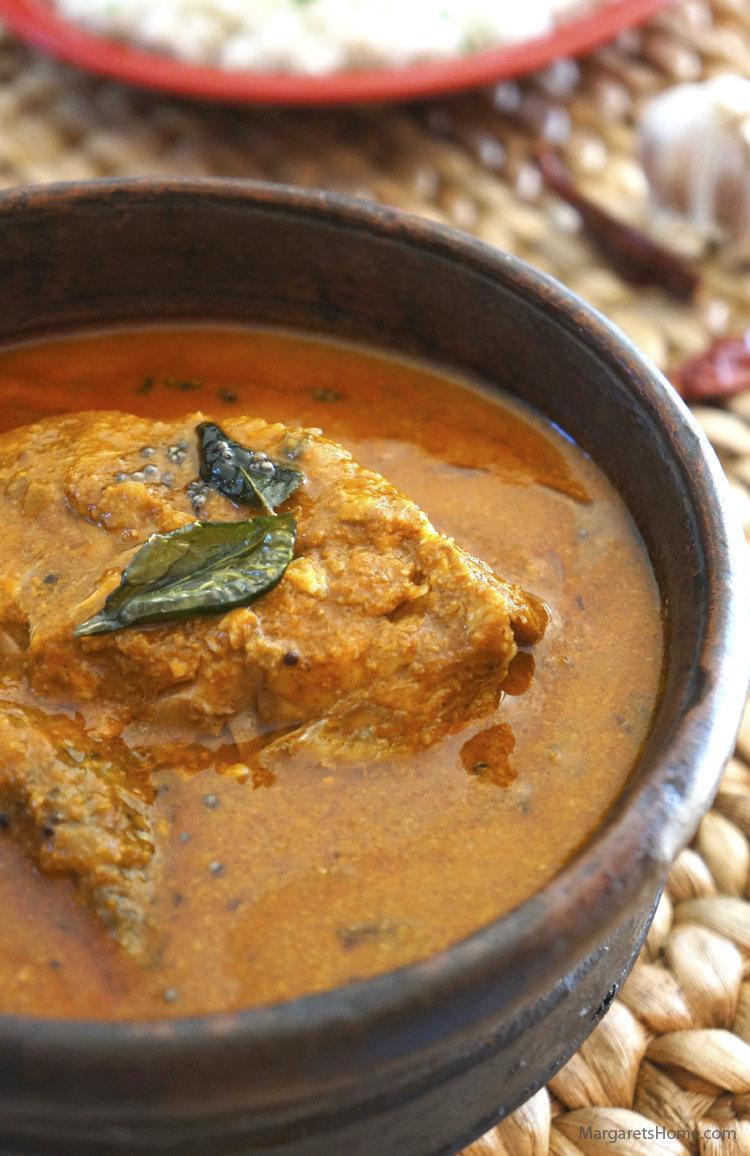 Today's recipe is one that I learned from one of my Mangalorean friends while I was in Manipal. I found a lot of similarities in the way we both prepared this dish. Both of us used coconut, curry leaves, garlic, and chillies. So, I shared my recipes from Kerala with her in exchange for her Mangalorean recipes. This fish curry uses tamarind as a souring agent. I added an extra seasoning of two teaspoons of oil, mustard seeds, and curry leaves before I took the above picture, but that is optional.
All you need is a pot of steamed rice to relish this fish curry. I hope you will enjoy it as much as I did.
Fish Curry
Prep time: 15 minutes
Cooking time: 25 minutes
Serves: 6

3 pounds rock fish, cut into slices
Salt
½ teaspoon turmeric powder
5 dry whole red chillies
1 tablespoon whole dry coriander seeds
1 teaspoon cumin seeds
1 teaspoon whole black peppercorn
4 fenugreek seeds
1 cup finely chopped onion
2 tablespoons chopped garlic
1 cup water
4 tablespoons oil
½ teaspoon mustard seeds
1 sprig curry leaves
1½ cups coconut milk
2 tablespoons tamarind extract
Using a paper towel, pat the slices of fish until dry. Rub a little salt and turmeric powder over them and marinate them in the refrigerator for 10 minutes.
In a small pan, over medium-low heat, roast the chillies, coriander, cumin, peppercorn, and fenugreek seeds until fragrant. Cool completely. Add all the roasted ingredients, half of the chopped onion, garlic, and half cup of water to a blender and grind to a fine paste.
Place a large saucepan over medium-high heat. Add oil, and when it shimmers, add the mustard seeds. When the mustard seeds splutter, add the curry leaves, and the rest of the chopped onion. Sauté until onion is lightly brown. Add the ground paste and cook until the oil separates. Add the coconut milk, tamarind extract, half cup water, salt, and fish slices. Stir gently, cover with a lid, and cook over medium heat for 15 minutes or until the fish is cooked. Garnish with curry leaves. Serve with steaming hot rice.