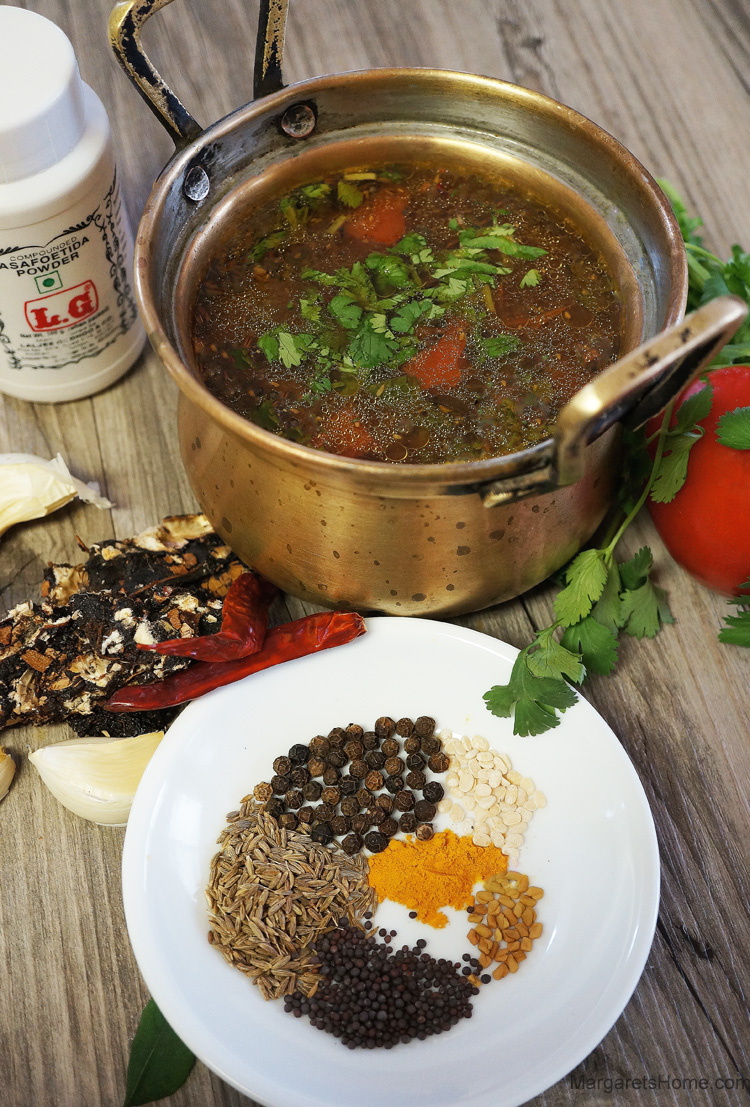 There are as many rasam recipes as there are South Indian families in India. Every home has their own unique blend of rasam powder and steps that they follow to make their favorite rasam. There are also several variations, such as, pepper rasam, cumin rasam, garlic rasam, lentil rasam, and buttermilk rasam. The list goes on and on! Today, I am sharing a rasam receipe that is easy and fool-proof. You won't need to buy rasam powder. Everything is made from scratch. This post is for a my good friend, Bhadri, who requested this recipe.
Rasam is a popular soup used as an Ayurvedic remedy for coughs and colds all over Southern India. Whether you are sick or not, do give this recipe a try. It goes well with rice and a vegetable side dish like my avial, green bean thoren, or cabbage thoren.
Tamarind and Tomato Rasam
Prep time: 10 minutes
Cooking time: 10 minutes
Serves: 2-3
Ingredients:
3 cups hot tap water
¼ cup of tamarind, (or one small lime-sized ball of tamarind)
1 ripe Roma tomato
¼ teaspoon turmeric
½ teaspoon sugar
1 teaspoon salt
1 teaspoon whole black pepper corns
2 teaspoons cumin seeds
3 cloves of garlic
1½ teaspoons ghee or sesame oil
½ teaspoon mustard seeds
½ teaspoon black gram dal, (urad dal)
¼ teaspoon fenugreek seeds, (methi seeds)
2 whole dry red chillies, (depending on heat and your preference)
1/8 teaspoon asafoetida powder, (hing)
1 sprig curry leaves
2 teaspoons chopped cilantro leaves
Directions:
Soak the tamarind in one cup of hot water for 10 minutes. When it is cool, mash it with your fingertips to extract the tamarind pulp/juice. Strain the juice into a bowl. Using the same tamarind, repeat the process with the remaining two cups of water. This will give you three cups of tamarind juice. Set it aside.
Crush the tomato with your fingertips and add it to the bowl with the tamarind juice. Trust me, the rasam tastes better when you use your fingers to mash the tomato! But you can cut it, if you prefer. Add the turmeric, sugar, and salt to the tamarind and tomato mixture.
Grind to a coarse powder the pepper and cumin seeds. You can do this in a mortar and pestle or spice grinder. Add the pepper and cumin powder to the tamarind and tomato mixture. Taste, and if the mixture is too sour, add a tablespoon or two of water. Crush the three garlic cloves and set them aside.
Place a wok (kadai), over medium-high heat. Add the ghee and when it shimmers, add mustard seeds. When the mustard seeds splutter, add black gram dal. Watch carefully so you don't burn the ingredients. When the dal turns light brown, add fenugreek seeds. Break the dry red chillies in half and add them next. Then add the asafoetida powder, curry leaves, and the tamarind and tomato mixture.
When you see the rasam beginning to boil and bubbles forming along the edges add the crushed garlic cloves. Let the rasam come to a rolling boil. As soon as you see froth forming on the top of the rasam, add the cilantro leaves and turn off the heat. Transfer the rasam to a serving bowl and cover it with a lid. Serve rasam with plain rice, papadums and a vegetable side dish. Yum!