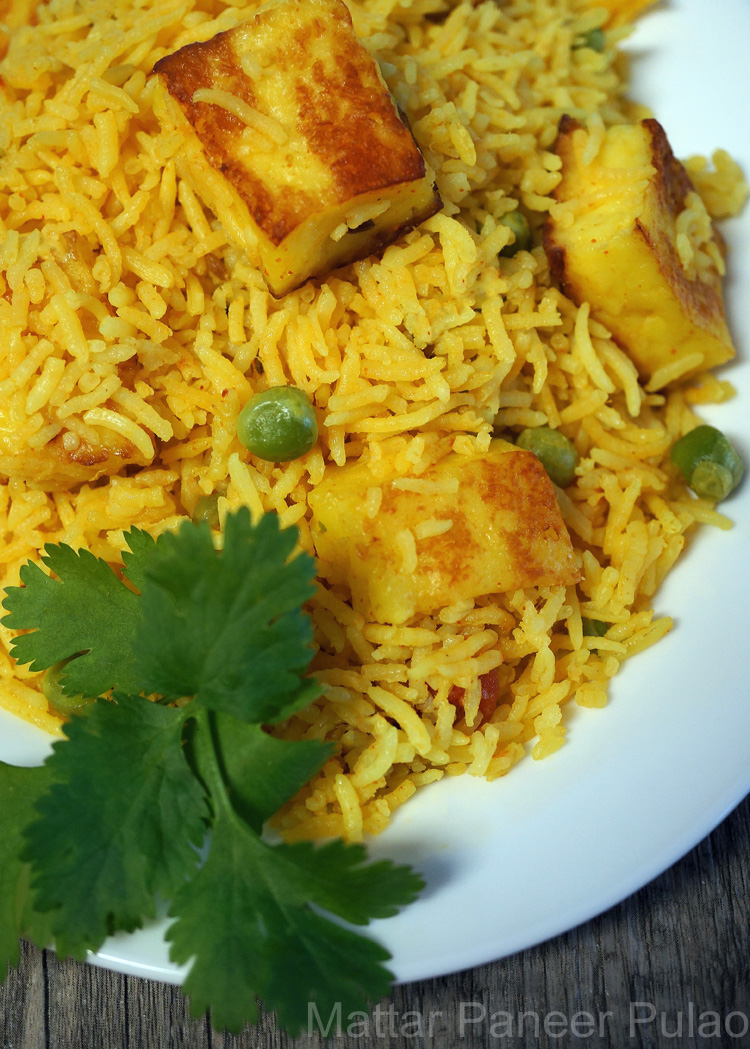 When I go to an Indian restaurant for a meal, I often order mattar paneer. Mattar paneer is a North Indian vegetarian dish that consists of green peas (mattar) and cubes of fresh Indian cheese (paneer) in a creamy tomato based sauce. I enjoy eating mattar paneer with naan (Indian bread). That was my inspiration for the mattar paneer pulao recipe that I'm sharing with you today.
Paneer can be made at home by curdling heated milk with lemon juice or vinegar. Sometime soon, I will share the steps on how you can make paneer at home. Until then, you can buy paneer from the Indian grocery store. You will find it in the frozen food section.
Mattar paneer pulao can be made mild or spicy depending on your level of comfort. You can add the same number of spices that I've suggested or reduce them by half. You can also add green chillies or leave them out. This pulao pairs well with a simple cucumber raita or tomato chutney.  Try it out, and let me know if you agree.
Mattar Paneer Pulao
Prep time: 20 minutes
Cooking time: 35 minutes
Serves: 4
Ingredients:
2½ cups Basmati rice
14 oz (400g) paneer
3-4 teaspoons oil
¼ cup ghee
1 large onion, (sliced)
1 bay leaf, (torn into two bits)
6 cloves
2 star anise
6 green cardamoms
1-inch piece cinnamon
10 whole black pepper corns, (optional)
1 teaspoon cumin seeds
2 tablespoons ginger-garlic paste
3 large Roma tomatoes, (blanched and diced)
4 green chillies, (slit in half, optional)
½  teaspoon turmeric powder
1 teaspoon Kashmiri chilli powder
salt
4 cups water
1 cup green peas, (fresh or frozen)
Directions:
Place the rice in a small bowl and add enough water to cover it by two inches. Using your hands, gently swish the rice grains so that it releases starch. Pour the water out, leaving the rice in the bowl. Do this three or four times until the water runs clear. Soak the rice in fresh water for 15-20 minutes. Drain the water before you use the rice in this recipe.
Cut the paneer into bite sized cubes. Heat one teaspoon of oil in a medium non-stick frying pan, over medium heat. Fry a few paneer cubes at a time, until they turn light brown. Remove and put them directly into a bowl of hot tap water. Fry the rest of the paneer cubes in the same manner. Let them soak in the water until they are called for in the recipe.
Melt ghee in a large saucepan over medium-high heat; add the onion and cook until softened, about four minutes. Add the whole spices – bay leaf, cloves, star anise, cardamoms, cinnamon, black pepper, and cumin. When you get the fragrant smell of spices, add the ginger-garlic paste.  Stir and cook until the raw smell of the ginger-garlic paste disappears. Add tomatoes, green chillies, turmeric, chilli powder, and salt. Cook until the oil separates. Add four cups of water. Turn the heat to high, and let the water come to a boil. As soon as the water starts boiling, turn the heat to medium, drain the rice, and add.
Drain water from the paneer and add it to the rice. Add the peas and stir everything gently just one time so the rice, paneer, peas, and spices are well combined. Let the rice cook on medium heat until you see bubbles appearing on top of the rice. Cover the saucepan with a lid. When you see steam escaping through the lid, turn the heat to low, and cook the mattar paneer pulao for 10-15 minutes. Fluff the rice with a fork before serving.