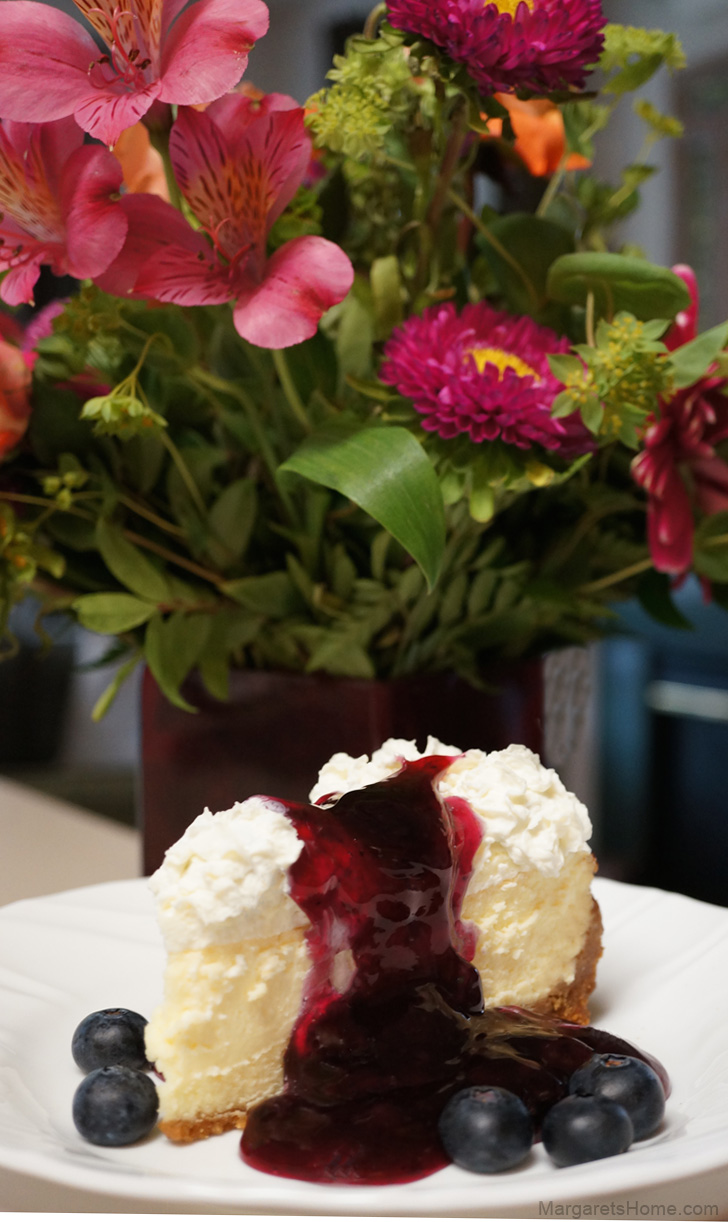 Celebrate Mother's Day with this luxurious, rich, white chocolate cheesecake with home made blueberry topping. It is definitely worth the time and effort to make this special dessert for your mom.
Blueberry cheesecake has been one of our family favorites for many years. I remember making it for the first time in a 9 by 13 inch pan after tasting it at a restaurant. It was more like a blueberry bar than a cheesecake, but as far as the taste – I couldn't have been happier. My recipe has evolved since then and it has become decadent with extra calories to go along with it. But Mother's Day is a good time to have a piece of cheesecake without feeling terribly guilty.
I can't help but think of my mom while I write this post around Mother's Day. I have beautiful memories of of her. I remember she used to play catch with me while I ran around a flower bed in my garden. When I think back now, I wonder how she ever found the time to do that while holding a full-time job, cooking every meal, and doing a myriad other tasks that moms have to do. While she made chapatis in the kitchen, she taught me my multiplication tables and spelling. She was strong in her faith and prayed for all her children and grandchildren. We felt protected and loved when we went through difficult times in our lives. Oh, I love her so very much, and wish I could tell her one more time.
Happy Mother's Day to all the selfless mothers out there. God bless you.
Blueberry Cheesecake
Prep time: 15 minutes
Cook time: 45-50 minutes
Serves: 6-8
Ingredients:
For the crust:
1 cup graham cracker crumbs
½ cup almond flour
2 tablespoons sugar
¼ cup butter, melted
For the topping:
2 cups fresh blueberries
⅓ cup sugar
⅓ cup water plus 2 tablespoons water
2 tablespoons cornstarch
2 tablespoons fresh lemon juice
½ teaspoon vanilla extract

For the filling:
2 packages (8 oz. each) cream cheese, softened
½ cup sugar
2 eggs
1 egg yolk
1 cup white chocolate chips, melted
1 teaspoon vanilla extract
Directions:
Preheat your oven to 350 degrees F. Line the bottom of an eight-inch springform pan with parchment paper.
To make the crust: In a bowl mix graham cracker crumbs, almond flour, sugar and butter. Press onto bottom of the springform pan. Bake for six minutes. Cool completely.
To make the topping: In a saucepan over medium heat, combine the blueberries, sugar and one-third cup of water. Stir frequently, and bring to a boil.
In a small bowl, mix the cornstarch with two tablespoons of cold water. Slowly stir the cornstarch mixture into the blueberries. Simmer until the blueberry topping is thick enough to coat the back of a metal spoon, about five minutes. Remove from heat and gently stir in lemon juice and vanilla. Cool and refrigerate until you are ready to serve the cheesecake.
To make the filling: Beat cream cheese and sugar in large bowl with mixer until creamy.  Add eggs and yolk, one at a time, mixing on low after each just until blended. Add melted white chocolate and vanilla and beat until mixture is smooth. Pour over the crust and bake for 45-50 minutes. Cool completely, run a butter knife gently around the edge of the pan, and refrigerate for four hours or over-night.
Serve slices of cheesecake with whipped cream and blueberry topping.