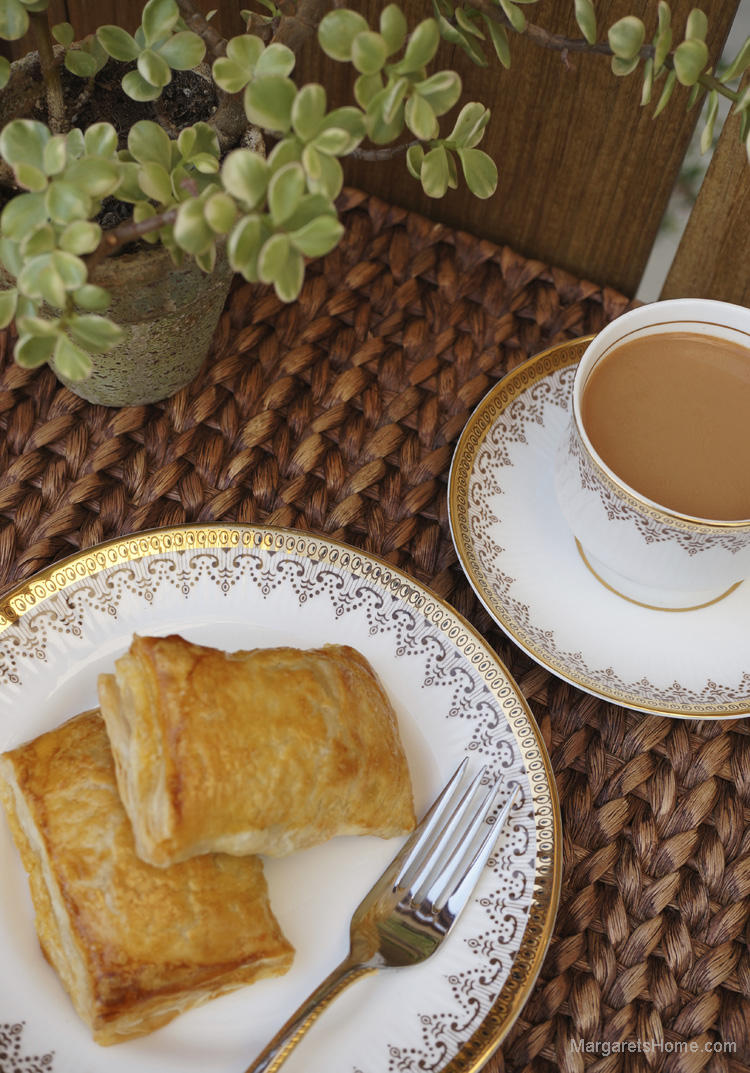 Some time ago I shared my recipe for Minced Chicken Puffs and many of you told me how much you enjoyed serving these puffs to your friends and family. Some of you asked if I could share a vegetarian version. This recipe is for you.
I was at Whole Foods and they were giving out samples of this soy-free, gluten-free, beef-free, cholesterol free, 100% vegan crumble called Beyond Meat. It tasted good so I decided to try it as a filling for my puffs. Beyond Meat is a new soy free, fake meat company. The crumble is made from pea proteins. You could also make the filling with two cups of boiled vegetables like carrots, peas, potatoes and cauliflower instead of the feisty beef-free crumble and the potato that is listed in this recipe. The Shakti meat masala gives the filling a nice flavor.
No, Whole Foods or the company, Beyond Meat, is not paying me to promote these products. I just think the Beyond Meat Beef or Chicken Crumble is a great option for my vegetarian friends. I've included a picture of the packet so you can identify it in the freezer section of your Whole Foods grocery store. Try it and let me know how it turns out.
Vegetarian Puffs
Prep time: 10 minutes
Cooking time: 35 minutes
Serves: 6
Ingredients:
1 pkg. (17.3-ounces) Puff Pastry Sheets, thawed
3 tablespoons oil
1 teaspoon cumin seeds
2 cups finely chopped onion
Salt
1 tablespoon finely chopped ginger
1 tablespoon finely chopped garlic
2 teaspoon finely chopped green chillies, (depending on heat and your preference)
2 tablespoons finely chopped cilantro
¼ cup finely chopped tomato
3 teaspoons Shakti meat masala powder, (or any other meat masala powder)
1 medium sized potato
1 11-oz package Feisty Beef-Free Crumble, (available in the frozen section)
2 tablespoons soy milk
Directions:
Thaw the pastry sheets at room temperature for 40 minutes or use the directions on the package. Heat the oven to 400°F. Lightly grease or line two baking sheets with parchment paper.
To make the filling for the puffs, boil the potato until it is fork tender. Remove the skin and dice into small pieces. Heat oil in a small non-stick frying pan over medium-high heat. Add cumin seeds and when they sputter add onion, and salt. Cook onions until they turn translucent. Then add the ginger, garlic, green chillies, and cilantro. Cook for three minutes or until the raw smell of the garlic disappears. Add tomato and the meat masala powder. Let the tomato cook until you see the oil separate from the mixture. Turn the heat to low and add the potato and beef-free crumble. Break up the pieces with your spoon, so there are no large lumps. Cover with a lid and cook for five minutes. Stir to dry out any water that may remain. Remove from heat and cool the filling completely.
To assemble the puffs:
Unfold one pastry sheet on a lightly floured surface.
Cut the pastry sheet into three strips along the fold marks. Gently roll each strip to make it slightly wider.
Cut each strip in half crosswise, making six pastry rectangles.
Place the pastry rectangles onto the baking sheet.
Put one heaped teaspoon of the filling onto each pastry rectangle.
Brush the edges of the pastry rectangles with a little water.
Fold the pastries in half over the filling to form small rectangles.
Brush the tops of the filled puffs lightly with soy milk.
Put the tray in the freezer.
Repeat this process with the second puff pastry sheet.
Bake the puffs for 20-25 minutes or until they are golden brown. Let the puffs cool on the baking sheets on wire racks for 10 minutes. Serve with ketchup or Cilantro and Mint Chutney.
Please note:
There are two pastry sheets in one package. If you do not want to use the second pastry sheet, you can wrap it in parchment paper, put it in a ziplock bag, and freeze it. Or, you can fill the puffs and freeze them individually wrapped in parchment paper. Bake them at 400°F for 30-35 minutes straight from the freezer. No thawing required.