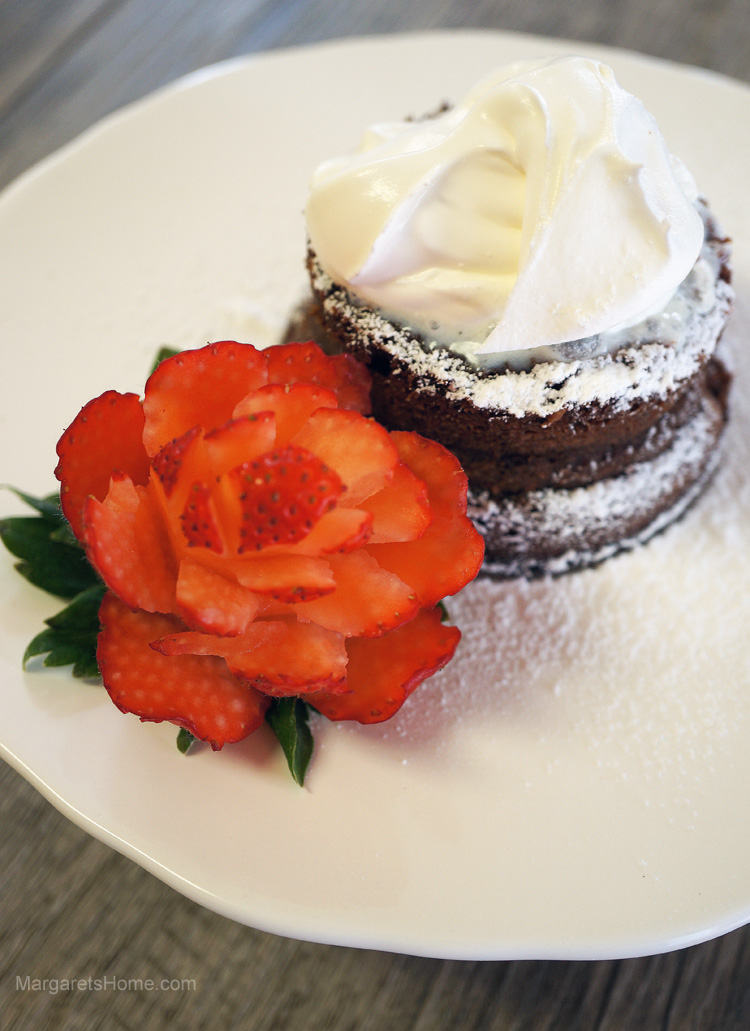 Happy Valentine's Day! Bake this easy, decadent Molten Chocolate Cake and you're bound to impress your sweetheart. This cake has several names – chocolate fondant pudding, chocolate lava cake, and chocolate moelleux. The French call it chocolate mi-cuit (semi-cooked) which, I think, perfectly describes this cake.
The molten chocolate cake was born out of a chocolate accident in the kitchen when its creator master chef Jean-Georges Vongerichten pulled an under-baked cake out of the oven. Served right out of the oven, these individual sized chocolate cakes release their ooey-gooey melted chocolate centers with your first bite. With a scoop of ice-cream, crème fraîche, or whipped cream it's the perfect Valentine's Day treat.
Molten Chocolate Cake
Adapted from Food & Wine by Jean-Georges Vongerichten
Prep time: 15 minutes
Baking time: 12 minutes
Serves: 4
1 stick softened unsalted butter, plus 1 teaspoon melted butter for brushing ramekins
1 cup semi-sweet chocolate chips
2 eggs
2 egg yolks
¼ cup granulated white sugar
Pinch of salt
1 teaspoon vanilla essence
2 tablespoons all-purpose flour, plus 2 teaspoons for dusting ramekins
Confectioners' sugar for dusting, optional
Whipped cream or ice-cream and strawberries as garnish, optional
Place rack in the center of the oven and preheat to 400 degrees F. Butter and flour four 6-ounce ramekins. Gently tap and remove excess flour and set the ramekins on a baking sheet. You can also use molds, custard cups or even muffin tins instead of ramekins.
In a double boiler, oven simmering water, melt butter with chocolate chips. Stir until the chocolate chips and butter melt and turn smooth. Remove from heat and set aside.
In a medium bowl, beat whole eggs, the two yolks, sugar, and salt with a hand mixer, on high speed, for about four minutes or until the mixture turns thick and pale in color. Add the vanilla essence and beat just until it is incorporated. Using a spatula gently fold the chocolate mixture and flour into the egg mixture.
Spoon the batter into the prepared ramekins and bake for 12 minutes, or until the sides of the cake are firm but the centers are still wobbly and soft. Let the cake cool in the ramekins for one minute. You can serve the cakes in their ramekins or you can run a knife around the edge of each cake and then invert them onto serving plates. Gently remove the ramekins. Sprinkle the tops of each warm cake with confectioners' sugar and serve with a dollop of whipped cream or ice cream. I've decorated my cake with a beautifully carved strawberry rose.
Note:
– I used Ghirardelli premium baking semi-sweet chocolate chips.
– You can make the batter several hours in advance. Butter and flour your ramekins, pour the batter, cover with plastic wrap, and refrigerate until you are ready to bake. Bring to room temperature before you bake.
– Oven temperatures vary so check the cake after they have been in the oven for 10 minutes. The sides should be set but the centers should be wobbly and soft. This is important to get the perfect molten chocolate cake. It took 12 minutes in my oven.