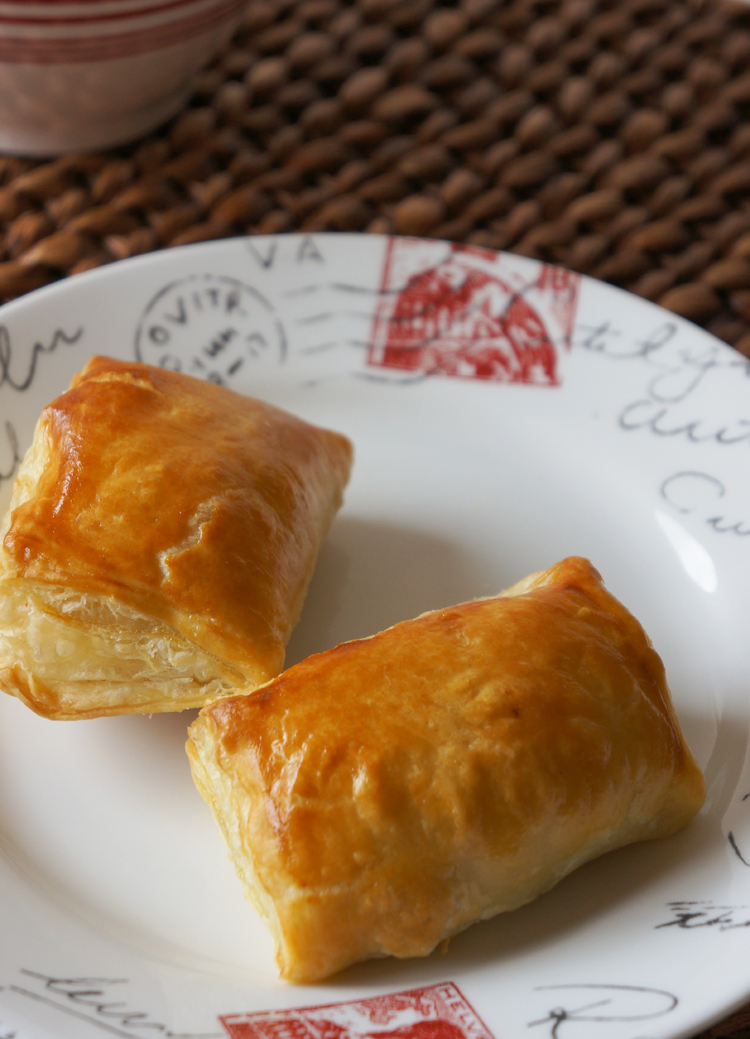 Two lovely young ladies have asked me to share a recipe for puffs, so this blog post is especially for them. Chicken puffs, eggs puffs, and vegetable puffs bring back memories of bakery shops in India. The lovely aroma that came from these shops, as you passed by, was magnetic.
Egg puffs were a popular item in a bakery in Manipal and my children and I would pick some up every Friday afternoon. It was in Manipal where I learned how to make puff pastry from scratch. My teacher was a young lady from Malaysia. Making puff pastry is a tedious process and since puff pastry sheets are available in the frozen section of our grocery stores in the U.S., I've used them to save time. This recipe will give you the basics on how to make puffs but use your imagination to make the filling your own. Enjoy.
Minced Chicken Puffs
Prep time: 10 minutes
Cooking time: 35 minutes
Serves: 6
Ingredients:
1 pkg. (17.3-ounces) Puff Pastry Sheets, thawed
2 tablespoons oil
1 teaspoon mustard seeds
½ teaspoon cumin seeds
2 cups finely chopped onion
Salt
1 tablespoon finely chopped ginger
1 tablespoon finely chopped garlic
2 teaspoon finely chopped green chillies, (depending on heat and your preference)
2 tablespoons finely chopped cilantro
¼ cup finely chopped tomato
3 teaspoons Shakti meat masala powder, (or any other meat masala powder)
1 pound minced chicken
1 egg
1 tablespoon water
Directions:
Thaw the pastry sheets at room temperature for 40 minutes or use the directions on the package. Heat the oven to 400°F. Lightly grease or line two baking sheets with parchment paper. Stir the egg and water in a small bowl with a fork.
Heat oil in a small non-stick frying pan over medium-high heat. Add mustard seeds and when they sputter add cumin seeds, onion, and salt. Cook onions until they turn translucent. Then add the ginger, garlic, green chillies, and cilantro. Cook for three minutes or until the raw smell of the garlic disappears. Add tomato and the meat masala powder. Let the tomato cook until the oil separates. Turn the heat to low and add minced chicken. Break up the chicken with your wooden spoon, so there are no lumps. Then turn the heat to medium. Cover with a lid and cook for 10 minutes. Stir to dry out any water that may remain. Remove from heat and cool completely.
To assemble the puffs:
Unfold one pastry sheet on a lightly floured surface.
Cut the pastry sheet into three strips along the fold marks. Gently roll each strip to make it slightly wider.
Cut each strip in half crosswise, making six pastry rectangles.
Place the pastry rectangles onto the baking sheet.
Put one heaped teaspoon of the chicken filling onto each pastry rectangle.
Brush the edges of the pastry rectangles with a little egg mixture or water.
Fold the pastries in half over the filling to form small rectangles.
Brush the filled puffs with the egg mixture.
Put the tray in the freezer.
Repeat this process with the second puff pastry sheet.
Bake the puffs for 20-25 minutes or until they are golden brown. Let the puffs cool on the baking sheets on wire racks for 10 minutes. Serve with ketchup or cilantro and mint chutney.
Please note:
There are two pastry sheets in one package. If you do not want to use the second pastry sheet, you can wrap it in parchment paper, put it in a ziplock bag, and freeze it. Or, you can fill the puffs and freeze them individually wrapped in parchment paper. Bake them at 400°F for 30-35 minutes straight from the freezer. No thawing required.