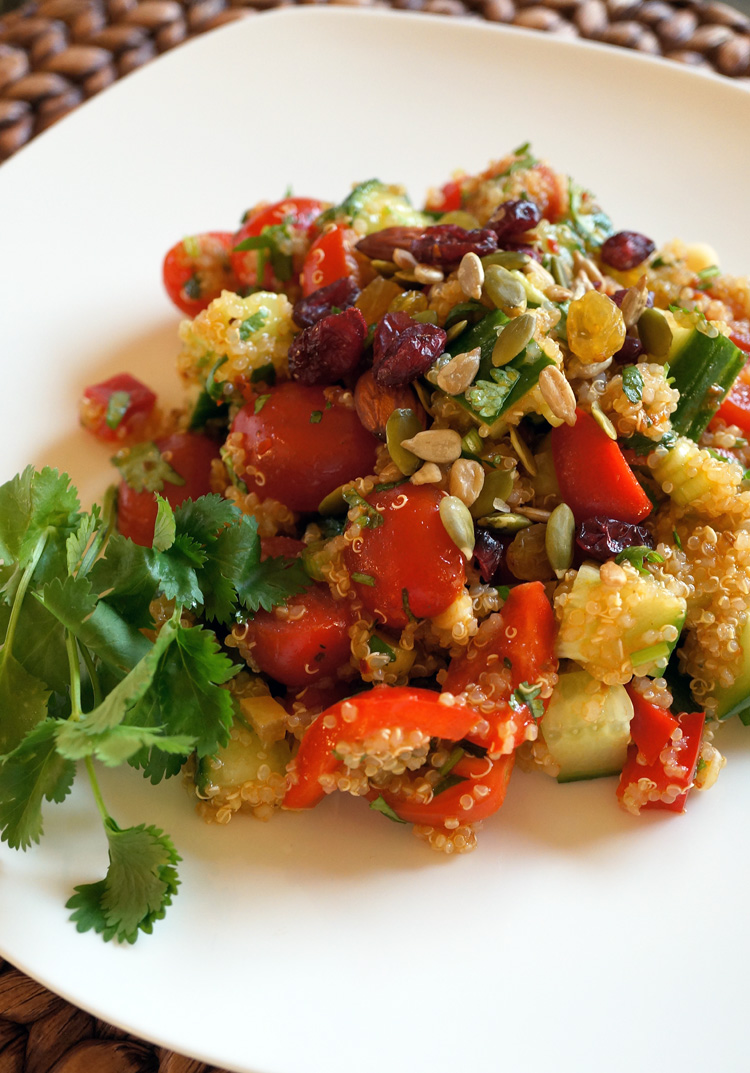 I've been attending cooking classes at Sur la Table and the first class I attended was called, "Healthy Mediterranean Cooking." Chef Bradley Curtis was a superb teacher. Not only did he share several easy and healthy dishes, but he taught us good knife skills and introduced us to spices and herbs from around the world. I was excited to learn how to use Moroccan preserved lemons and Northwest African harissa. I could not wait to get home so I could use these two ingredients in my recipes, and this salad was my first creation.
I used quinoa because it is an excellent source of iron, phosphorus, fiber, and riboflavin. It is gluten-free and one of only a few plant foods that are considered a complete protein. Doctors and nutritionists call it a "super grain." A natural soap-like substance, that is bitter, covers each grain. It is said that the bitter taste deters birds and insects from eating it. So, that also means it is low in pesticides.
Spring is here and it's a good time to get back on track on eating right. Here's a salad that's "super" good!
Quinoa Salad
Prep time: 10 minutes
Cooking time: 25 Minutes
Serves: 4
Ingredients:
1 cup quinoa
2 cups vegetable broth or water
1 seedless English cucumber, diced
1 cup cherry tomatoes, halved
¼ cup finely chopped green onions, white parts only
2 tablespoons cilantro, finely chopped
1 tablespoons pumpkin/sunflower seeds, (optional)
1 tablespoons dry cranberries, (optional)
1 tablespoon raisins, (optional)
Directions:
Quinoa has a natural coating, called saponin. If it is not washed, the grains taste bitter or soapy. So, rinse the quinoa well under cold water and drain. It helps to use a fine mesh sieve to do this. Boxed quinoa is often pre-rinsed, but an additional rinse doesn't hurt. Put the rinsed quinoa into a saucepan and add vegetable broth or water. The quinoa to broth/water ratio is 1:2. Add a little salt if you are not using broth.
Cover and bring to a boil. When it starts boiling, turn the heat to low. The lid should be slightly ajar, to prevent boiling over. Simmer for 20 minutes. It's just like cooking rice. The grains get a bit transparent when it is cooked, except for a little spiral sprout. Use a fork to fluff it up and then let it cool.
Once the quinoa comes to room temperature, put it into a large bowl. Add cucumber, cherry tomatoes, green onion, and cilantro. Set aside and make the dressing.
Ingredients for dressing:
2 tablespoons fresh lemon juice
1 tablespoon honey
2-3 tablespoons harissa, (depending on heat and your preference)
1 small Moroccan preserved lemon, rind only, rinsed and finely chopped
¼ teaspoon pepper
salt
3 tablespoons extra-virgin olive oil
¼ teaspoon cumin seeds
1 garlic clove, minced
Directions for the dressing:
Whisk lemon juice, honey, harissa, preserved lemon, pepper, and salt in a small non-reactive bowl. Heat olive oil in a small non-stick pan and when it shimmers add cumin seeds and garlic. Stir for 30 seconds and then turn off the heat. Cool and drizzle the seasoned oil into the rest of the ingredients that are in the small bowl. Whisk vigorously.
To finish the salad:
Pour the dressing over the quinoa and vegetables. Toss gently. Cover and let stand at room temperature for one hour. It can also be kept in the refrigerator overnight. Serve chilled or at room temperature. Sprinkle pumpkin seeds, cranberries, and raisins just before you serve.
Note on how to use Moroccan preserved lemon: Remove lemon from the bottle with clean utensils to avoid contaminating the inside of the jar. This way, the remaining contents of the jar will not need to be refrigerated. Rinse the lemon under cold water to remove excess salt. Cut the lemon in quarters. Scoop off the insides. With a sharp knife remove the pith. Dice the lemon rind into small 1/8-inch cubes or finely chop.