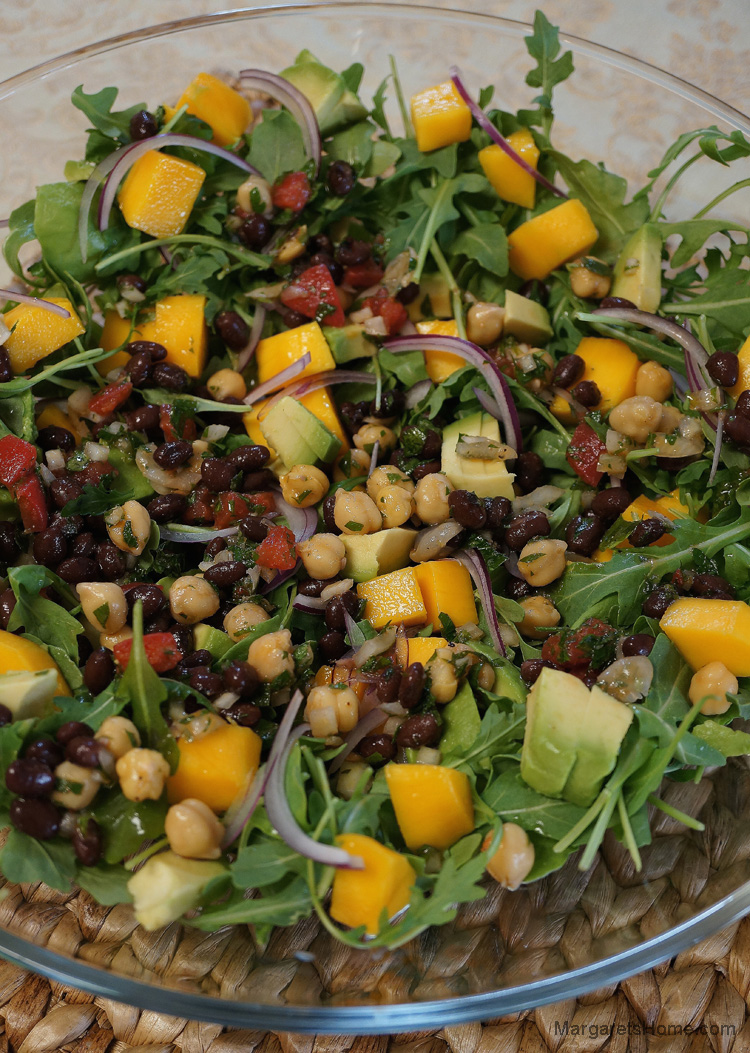 Every now and then my friend, Hannah, and I cook together. It was at one of those sessions that she whipped up this salad for lunch and shared the recipe with me. A salad within a salad, might be the best way to describe this dish. It's a complete meal, full of protein, and fiber. Thank you, Hannah. It has become one of my favorites.
The Middle Eastern twist takes the ever popular arugula, mango, and avocado salad from ordinary to extraordinary! The recipe that I've included for the chickpea, black bean, and spice relish makes more than what you will need for the arugula salad. But I love having extra. It makes for a great side salad, by itself, and keeps well in the refrigerator. You can also combine it with your favorite salads to make them more elaborate, fancy, and nutritious.
I used Trader Giotto's (Joe's) Balsamic Glaze to make the vinaigrette. But you can use balsamic vinegar, if you desire. And one more note, before I end. I like choosing an "almost" ripe mango for the salad. That slightly tart-sweet taste of mango adds another dimension to this flavorful salad. You've got to taste it, to believe it!
Arugula Salad with a Middle Eastern Twist
Prep time: 10 minutes
Serves: 6

Ingredients:
1 tablespoon balsamic glaze
1 tablespoon fresh lemon juice
1 tablespoon finely chopped shallots
¼ teaspoon sugar
2 tablespoons extra-virgin olive oil
¼ tsp salt
1/8 tsp pepper
5 cups baby arugula, (about 5 ounces)
1 "almost" ripe mangoes, (pitted, peeled and diced)
2 ripe avocados, (pitted, peeled and diced)
1 small red onion, (thinly sliced)
1 cup chickpea, black bean and spice relish, (see recipe below)
Directions:
To make the vinaigrette whisk the balsamic glaze, lemon juice, shallots, and sugar in a small bowl. Slowly pour in the olive oil, while whisking constantly. Season with salt and pepper.
In a large salad bowl, combine the arugula, mango, avocado, and onion. Just before serving, add the dressing and toss gently to coat. Top with one cup of the chickpea, black bean, and spice relish. Serve immediately.
Chickpea, Black bean and Spice relish
Prep time: 10 minutes
Serves: 12
Ingredients:
1 (15.5 oz) can garbanzo beans, (drained)
1 (15.5 oz) can black beans, (drained)
2 ripe Roma tomatoes, (blanched, skinned, and diced)
½ cup diced shallots
½ cup chopped fresh flat-leaf parsley
1 teaspoon chopped mint
3 tablespoons extra-virgin olive oil
¼ cup lemon juice
½ teaspoon cumin powder
1/8 teaspoon chilli flakes, (optional)
1 garlic clove, (minced)
¼ teaspoon black pepper powder
Salt
Directions:
Combine garbanzo, black bean, tomato, shallot, parsley, mint, olive oil, lemon juice, cumin, chilli, garlic, pepper, and salt together in a bowl. Let it sit in the refrigerator for at least 30 minutes, for the flavors to blend. Use about a cup of the relish for the arugula salad and store the rest in the refrigerator for use later.