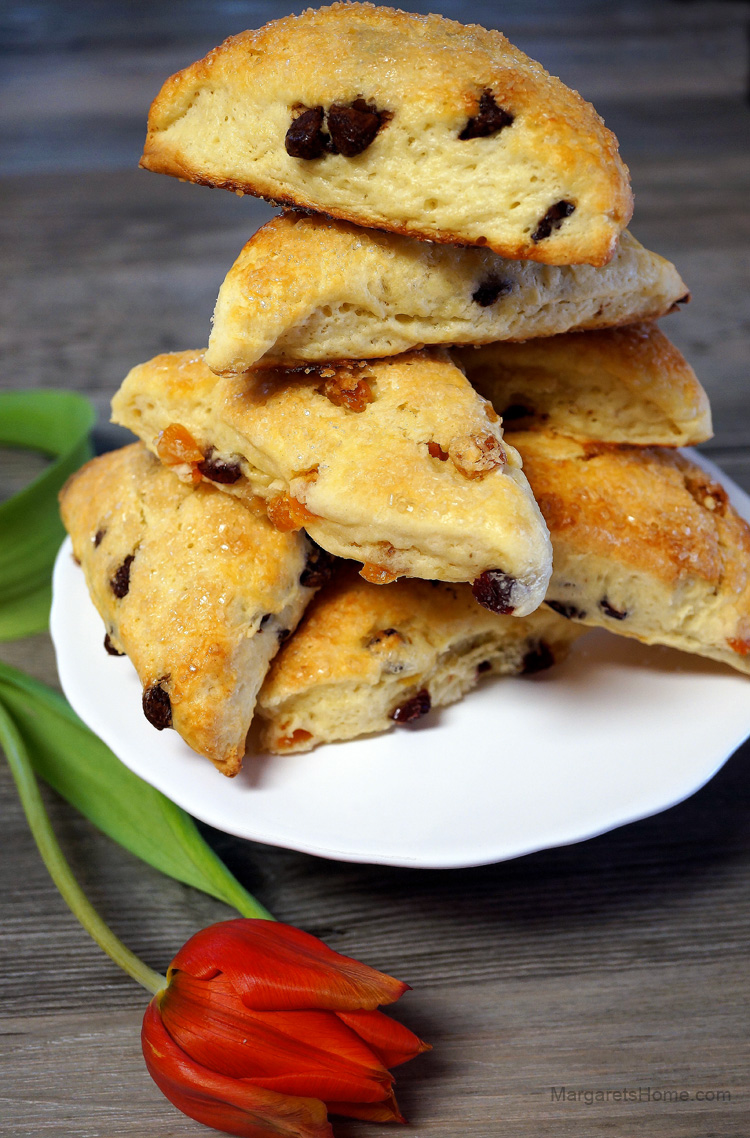 Start your Sunday morning with these freshly baked raisin, apricot, and cranberry scones. I made them for my family this past Sunday and they really enjoyed them. We topped them with cream and homemade strawberry jam. My favorite thing about making scones is that there is such a wide variety to choose from. You can make them with dried fruit or fresh fruit. You can make them sweet, nutty, or savory. In the picture above, you can see both raisin, apricot and cranberry scones on the bottom and chocolate chips scones on top. British scones are lightly sweetened so when I first made them, I added very little sugar. I've since changed my recipe and added two tablespoons of sugar to please my children. You can adjust the amount of sugar to suit your taste buds.
Here are some tips to making light and airy scones. Make sure that your butter is very cold but not frozen. Sift the dry ingredients to aerate the flour. Work quickly and lightly when combining the wet and dry ingredients. Don't over handle the dough as this will make your scones tough. Use very little flour to roll and shape your dough. Cut your scones with a sharp knife or cutter. Place them close together on the tray as this will help to keep their edges straight. Bake them on the top rack of your oven. Keep these tips in mind when you make scones and I promise your scones will be perfect.
Raisin, Apricot and Cranberry Scones
Prep time: 15 minutes
Cook time: 25 minutes
Makes: 18 scones

Ingredients:
3 cups all-purpose flour, (or use cake flour)
1 tablespoon + 1 teaspoon baking powder
½ teaspoon salt
2 tablespoons granulated sugar, (0-2 tablespoons, depending on your taste and preference)
10 tablespoons cold butter, (diced into small cubes)
1 cup dried fruits, (raisins, diced apricot, cranberries)
2 eggs
1 cup buttermilk + 2 tablespoons, (reserve 2 tablespoons to brush tops)
Turbinado sugar for tops
Directions:
Preheat oven to 400 degrees F. Line a sheet pan with parchment paper. Set aside.
In a large bowl sift flour, baking powder, and salt. Using a pastry cutter, a fork and a knife, or your fingertips, work the butter into the flour until it resembles coarse breadcrumbs. Sprinkle sugar over the flour, add the dried fruits and toss to combine.
Shake the carton of buttermilk before you measure. Pour one cup buttermilk into a separate small bowl. Add the eggs and whisk until combined.
Make a well in the center of the dry ingredients and slowly add the egg and buttermilk mixture. Gently fold the wet and dry ingredients, using a flat bladed knife, until a dough forms. The mixture simply needs to be pulled together until the flour is incorporated. The dough will be slightly wet, light, and pliable.
Turn the dough out onto a floured surface. Flour your hands and using a very light touch, gently pat into shape. About three to four pats only. Shape the dough into an 8 x 8 inch square that is about half inch in height. Use a ruler or a large knife to straighten the edges. Cut into thirds. You will have nine squares. Then cut each square diagonally to make two triangles.
Place the scones close together on the parchment lined baking sheet. Brush the tops with the reserved two tablespoons of buttermilk and sprinkle with Turbinado sugar. Bake on the top rack of the oven for 15 minutes, or until the tops turn light golden in color. Scones are best served warm and fresh, with jam and cream or creme fraiche.
More tips:
– For lighter scones use cake flour, which is soft flour that has less gluten protein. You can make your own cake flour. For every one cup of all purpose flour, take out two tablespoons and replace with two tablespoons of cornflour. Sift using a sieve.
– For chocolate chip scones, you can replace the dried fruit with one cup of chocolate chips.