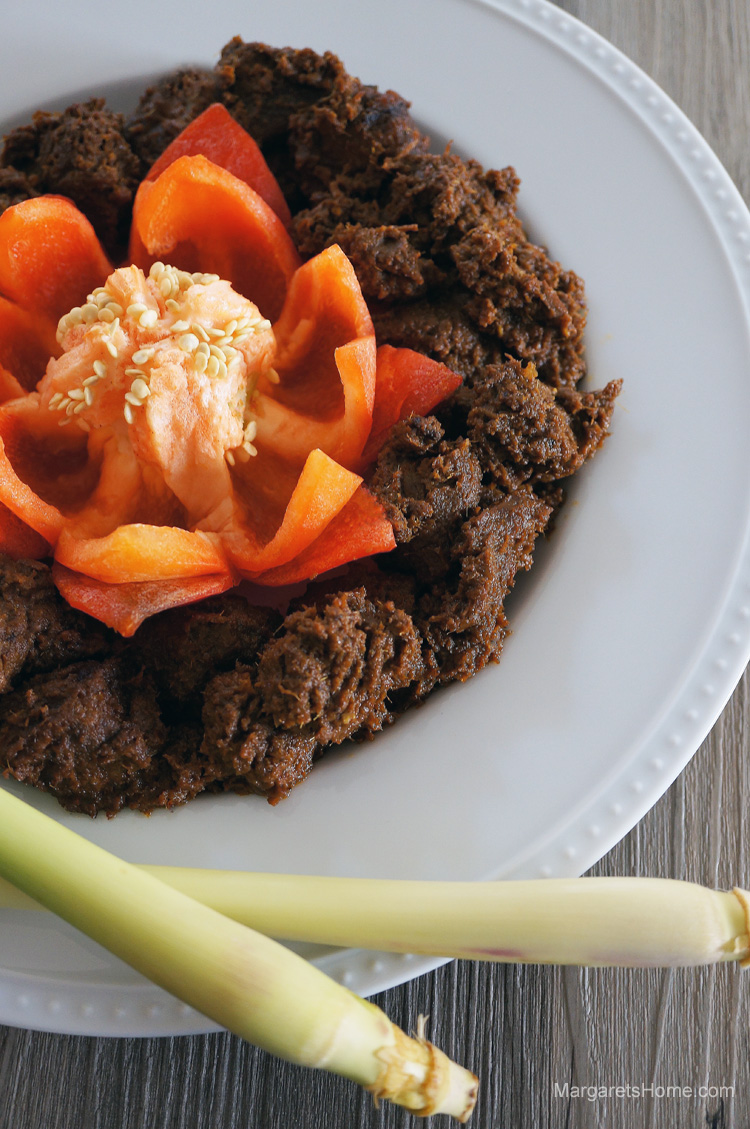 In a Facebook poll of the world's 50 best foods, CNN named Beef Rendang as #1. It is an Indonesian dish that is made by simmering beef in coconut milk and spices. I tasted this dish for the first time when it was made by my friend in California. I was hooked and I learned how to make it from The Complete Asian Cookbook by Charmaine Solomon. Over the years my recipe has evolved and taken on a life of its own – sometimes because of the lack of certain ingredients like candlenuts and fresh turmeric leaves. If you can't find these ingredients, you can still make this dish without them and it tastes great. It takes time and effort to make this dish so make a large quantity. It keeps well and develops more flavor each day.
Rendang is a traditional dish from the Minangkabau ethnic group from Indonesia. It is also popular in neighboring countries like Malaysia and Singapore. The beef is cooked for hours in a myriad of ingredients. Some of which were unfamiliar to me until I started experimenting with other world cuisines. And, a few ingredients were difficult to find. So this recipe is not for the faint of heart!
Rendang gets its dark chocolate color from roasted and ground coconut. It is called kerisik and one of the steps in this recipe tells you how to make it. There are several steps to this recipe so follow them carefully. The cooking process is laborious and the list of ingredients long, but the end result is definitely worth the wait!
Beef Rendang
Prep time: 30 minutes
Cook time: 2 hours
Serves: 6-8
Ingredients:
3 pounds beef, (chuck steak or shortribs, cut into large cubes)
¼ cup oil
1-inch piece cinnamon stick
5 whole cardamoms, lightly bruised
2 cloves
2 cups thick coconut milk, (use Thai canned coconut milk)
1 cup chilli water (reserve the water in which you soak the dry chillies – see below)
3 tablespoons tamarind pulp
2 tablespoons palm sugar, (or brown sugar)
salt
3 kaffir lime leaves
Blend into a paste:
1 cup finely sliced lemon grass, (5 stalks, white part only, dry outer layers removed)
½ cup water
25 dry red chillies, (seeds removed, soaked in 1 cup hot water for 30 minutes, save water)
3 cups roughly chopped shallots
2 tablespoons roughly chopped garlic cloves
2 tablespoons roughly chopped ginger
2 tablespoons finely sliced galangal
1 tablespoon roughly chopped fresh turmeric
Add the lemon grass and half cup of water to a food processor or blender and blend until smooth. Strain the dry red chillies and reserve the chili water to use while making the rendang. Add the soaked chillies, shallots, garlic, ginger, galangal, and turmeric to the food processor and run until there are no clumps left and you have a smooth paste. Scrape the bowl down several time during the process. Set aside.
Dry roast and powder:
2 tablespoons whole coriander seeds
1 tablespoon cumin seeds
1 tablespoon fennel seeds
1 teaspoon whole black pepper
In a small non-stick pan, over medium-low heat, roast the coriander, cumin, fennel and black pepper until fragrant. Cool and grind to a powder. I use a coffee grinder which I use only to grind spices. Alternately, you can also use these ingredients in their powder form. Set aside.
To make the Kerisik, (roasted, ground coconut paste):
1 cup frozen grated coconut or fresh grated coconut
In a non-stick pan roast the grated coconut over medium-low heat until it turns light brown and fragrant. Cool and grind in a coffee grinder until it turns oily. Set aside.
Directions:
Add oil to a large heavy bottomed pot and heat over medium-high heat. When the oil shimmers add the cinnamon, cardamom, and cloves. Fry for 10 seconds and add the lemon grass, red chillies, shallot, garlic, ginger, galangal, and turmeric paste. Fry, stirring constantly, until fragrant and the moisture evaporates. You will also see oil along the edge of the pot. It will take about 10-15 minutes to do this. Add the ground coriander, cumin, fennel, and pepper. Fry for a minute and then add the beef. Stir and roast until all the beef is well coated with the spice blend.
Next add the coconut milk, chili water, tamarind pulp, palm sugar, and salt. Turn the heat down to medium-low, cover with a lid and cook for two hours. Stir the rendang periodically during this time to make sure it is not catching to the bottom of the pot. Cook until the meat is tender and the liquid evaporates.
Once the meat is tender, add the kerisik and kaffir lime leaves. Gently stir until all the meat is well coated and you see the oil separate in the pot. Turn off the heat, cover with a lid and let the rendang sit for at least an hour before you serve. The meat will turn to dark brown. It is even better the next day when all the flavors have melded. Serve with rice.