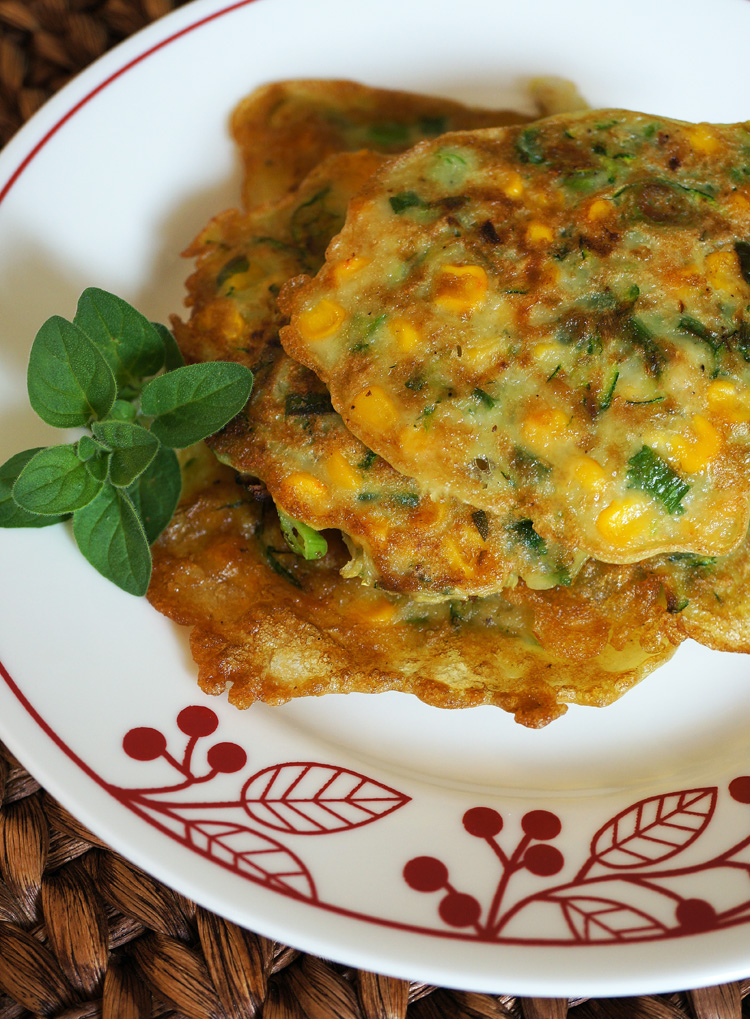 There are several ways to enjoy these zucchini and corn fritters. You can put them in a sandwich, have them as a side dish, or pair them with a spring salad for a lovely, light lunch. You can make these fritters gluten free by using one cup of pure cornstarch instead of the cornstarch and all purpose flour listed in the ingredients. While reading about gluten free, I learned that anything can be contaminated with gluten during processing. If you want to be on the ultra-safe side, it's always best to buy ingredients that are certified gluten-free.
When I made these fritters the first time, I did not squeeze the excess water from the shredded zucchini and it made my batter too thin. So, use a cheesecloth to squeeze the excess water from the zucchini. Save the liquid. You can always add a tablespoon or two of the zucchini water to make the batter a thick, pouring consistency.
Summer is a great time to experiment with fresh herbs. I used oregano in this recipe but you can use whatever herbs float your boat! Or, Indianize it with cilantro, whole crushed cumin or coriander seeds, and dry chilli flakes.
What are some of your favorites herbs and spices? Do you use herbs like rosemary, thyme, oregano, parsley, basil, and marjoram to give your Indian recipes a new twist? I look forward to your comments on my blog or on my Facebook page.
Zucchini and Corn Fritters
Prep time: 15 minutes
Cooking time: 30 minutes
Makes: 20
2 eggs, slightly beaten
¾ cup Argo cornstarch, (Argo & Bob's Red Mill are gluten free)
¼ cup all purpose flour
½ teaspoon baking soda
¼ teaspoon pepper
1¼ teaspoons salt, (or to taste)
4 cups shredded zucchini, (squeeze water out)
1½ cups thawed frozen corn
1 cup finely chopped green onions, (white and green parts)
1 tablespoon finely minced fresh oregano leaves
1 tablespoon finely minced jalapeño, (optional, depending on heat and your preference)
5 tablespoons grape seed oil, (or oil of your choice)
In a large bowl add slightly beaten eggs, cornstarch, flour, baking soda, pepper, and salt. Use a cheesecloth to squeeze excess water from the shredded zucchini. Save the liquid. Add zucchini, corn, green onion, oregano, and jalapeño to the rest of the ingredients in the bowl. Mix well to combine. Stir in a tablespoon or two of the zucchini water if the batter is too dry.
Heat a large non-stick frying pan on medium heat. Add a tablespoon of oil for shallow frying and when it shimmers, add half cup of the batter. Gently spread to form a three-inch pancake. Make three more fritters. When the edges start turning light brown, about three minutes, turn over and fry the other side for two minutes. Remove on to a paper towel lined sheet pan. Make the rest of the fritters.