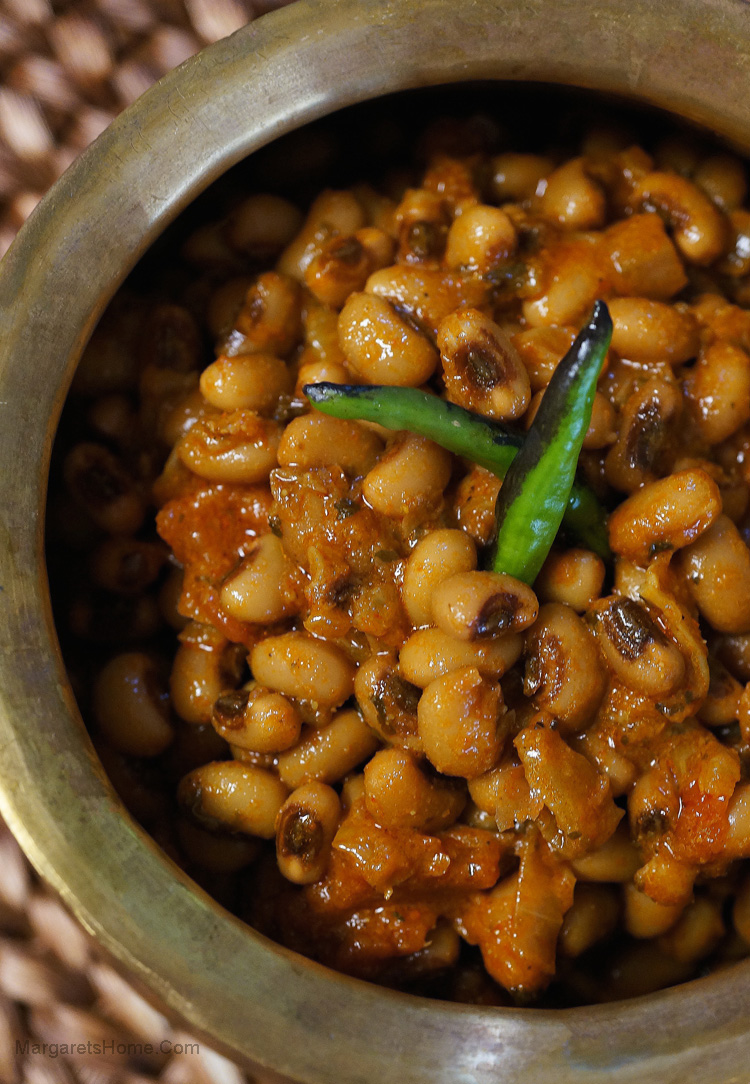 There are times when we need to whip up a curry in a hurry. I know many of my readers are mothers that work full time and they need to care for their families too. This dish is easy to prepare. For vegetarians, black eyes peas is a great substitute for meat and a low-calorie option. It is loaded with fiber, potassium, zinc, and iron.
You can buy dry black eyed peas, soak it overnight, cook it in the pressure cooker, and then follow my recipe to make the curry. Save one and a half cups of water that you cook the black eyed peas in because you can use it instead of the water that is called for in this recipe. Or, you can buy black eyed peas in cans from the grocery store and you can skip the soaking and pressure cooking part. The whole garam masala, that is, the bay leaf, cardamoms, cinnamon, star anise, cumin, and cloves add a lot of flavor to this dish so please don't skip using them.
This curry goes well with rotis or rice. Try it out and let me know how it turns out. Also, if you have a good recipe for black eyes peas, please share it with me.
Black Eyed Peas Curry – Lobia Curry
Prep time: 10 minutes
Cooking time: 25 minutes
Serves: 6
Ingredients:
3 15.5oz (439g) cans of black eyed peas, drained
¼ cup oil
1 cup finely chopped onion
1 bay leaf, torn into two
2 black cardamoms
1-inch piece of cinnamon, broken into bits
½ of one star anise
1 tsp cumin seeds
2 cloves
1 tablespoon ginger-garlic paste
2 cups blanched, skinned, and diced tomatoes
½ teaspoon turmeric powder
1 teaspoon Kashmiri chilli powder
1½ cups of water
salt
1 teaspoon garam masala powder
2 tablespoons kasori methi, crushed
2-3 slit green chillies, (optional)
Directions:
Place a heavy bottomed saucepan over medium heat. Add oil and when it shimmers, add the onion, bay leaf, black cardamoms, cinnamon, star anise, cumin, and cloves. Fry the onion and spices until the onion turns light brown. Add the ginger-garlic paste. Stir constantly and cook for about two minutes or until the raw smell of ginger-garlic disappears. Add the tomatoes, turmeric, and chili powder. Stir well and let the tomatoes cook until the oil separates.
Next, add the black eyed peas, water, and salt. Let it come to a boil. Once it comes to a boil, turn the heat to low and cook for 15 minutes. Finally, add the garam masala, kasori methi, and green chilli. Stir and let it cook for another five minutes. Garnish with chopped cilantro or whole green chillies.